Dry ice bombs explode in LA airport two days in a row
Published time: 15 Oct, 2013 16:53
Edited time: 16 Oct, 2013 05:48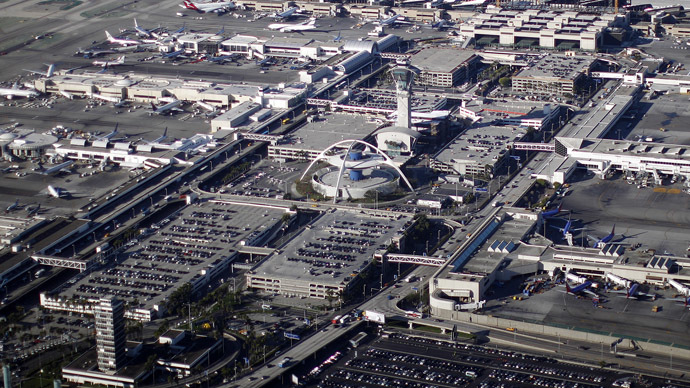 Security is on high alert at Los Angeles International Airport (LAX) after two dry ice bombs went off there on Sunday and on Monday and two more were found by police. An airport employee has been arrested in connection with the explosions.
The arrested man is a Servisair employee Dicarlo Bennett, 28, according to an unnamed law enforcement official cited by AP. Bennett allegedly took the dry ice from one of the planes.

The dry ice explosions on October 13 and October 14 raised concern over the airport's security measures. All four dry ice bombs were found in areas only accessible by employees. The three bombs discovered on Monday were near a plane at LAX's Tom Bradley International Terminal, which has just had a $1.9 billion renovation.

"The focus is definitely in the restricted area, not in the areas where passengers have access," Sgt. Karla Ortiz, LAPD, said to the Los Angeles Times. "We want to make sure that that get's tightened up."
No one was injured during the explosions. The Los Angeles Police Department and the FBI are currently investigating the situation, although at this point they do not suspect a connection to terrorism.
"We have to finish our investigations to find out what the cause was," Ortiz told NBC News. "We always do our best to prevent such incidents but we will be keeping our eyes peeled following these similar events."
Other law enforcement sources informed NBC that the bombs – plastic bottles containing dry ice – were most likely pranks. LAX spokeswoman Katherine Alvarado called the dry ice contraptions "harmless."
Monday night's explosion occurred at 8:30 pm local time (11:30 pm ET). No flights were affected, and the situation was resolved by 9:45 pm.
Sunday's incident, meanwhile, shut down activity in Terminal 2 while the LAPD bomb squad reacted. A soda bottle containing dry ice had burst in an employee restroom around 7 pm local time (10 pm. ET). No injuries were reported, though some flights were delayed.