US Navy submarine fires drone from underwater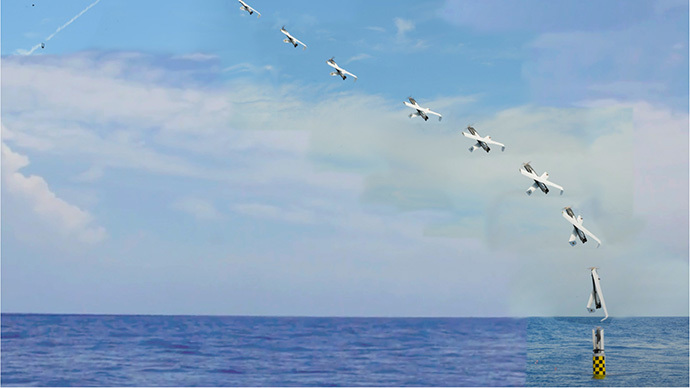 The US Navy has successfully launched an unmanned aerial system from a fully submerged submarine, marking the successful completion of a nearly six year long program designed to further the Navy's drone capabilities.
The fuel-cell powered, completely electric unmanned aerial system (UAS) was developed by the Naval Research Laboratory (NRL) with funding assistance provided by the Department of Defense Rapid Reaction Technology Office and the SwampWorks innovation program.
Engineers used a launch system known as 'Sea Robin' (first developed to launch tomahawk missiles from submarines) to fire what is known as the eXperimental Fuel Cell Unmanned Aerial System, or XFC UAS. The UAS surfaced before rocketing through the air for several hours, broadcasting the entire mission via live video to commanders watching from a nearby base.
"This six-year effort represents the best in collaboration of a Navy laboratory and industry to produce a technology that meets the needs of the special operations community," Dr. Warren Schultz, program developer and manager at NRL, said in a press release. "The creativity and resourcefulness brought to the project by a unique team of scientists and engineers represents an unprecedented shift in UAV propulsion and launch systems."
The Navy's announcement Thursday comes as the public is questioning the very future of drones. Amazon founder and CEO Jeff Bezos announced this week that he hopes the company will eventually deliver packages throughout the United States by using drones rather than traditional ground and air delivery services. The mere mention of such a plan was enough to cause a commotion, with columnists and lawmakers alike warning against such a plan.
Moreover, upcoming regulations by the FAA on the domestic use of drones are expected to include major restrictions and limit the use of UAV's weighing up to 55 pounds.
It also comes after the Navy and Marines decided to bet big on the RQ-21A Blackjack. Officials at Navy Air Command awarded an $8.8 million contract to Insitu, a subsidiary of the Boeing Corporation last week in an exchange for an initial Blackjack order. The order includes the production of one aircraft, ground control stations, as well as launch equipment, according to Wired.
The Blackjack craft is 8 feet long with a wingspan of 16 feet, weighing in at 80 pounds. The drone can be launched from air or sea and is capable of flying 104 mph at nearly 20,000 feet for 13 hours.
"It has a configurable payload that allows you to integrate new and unique payloads that are specific to the mission in addition to an [electro-optical/infrared] camera," Marine Corps Major Wayne Phelps told the technology magazine. "You can have multi-mission ability. This allows you to do some type of unique cross-cueing types of missions."
You can share this story on social media: