Drone strike kills 13 civilians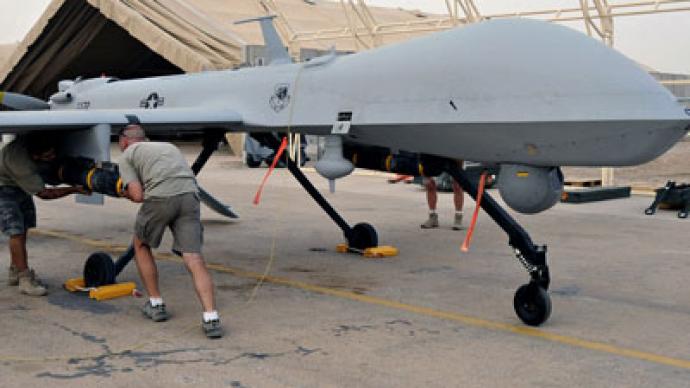 Local officials in Yemen say that a United States-led drone strike over the weekend there killed 13 civilians.
Members of the Yemeni government tells reporters that an unmanned aerial vehicle operated remotely by the United States military executed more than a dozen civilians, including three women, near the town of Rada in al-Baitha province on Sunday."This was one of the very few times when our target was completely missed. It was a mistake, but we hope it will not hurt our anti-terror efforts in the region," a senior Yemeni Defense Ministry official says to CNN this week on condition of anonymity. The United States believes that as many as 200 suspected members of the al-Qaeda terrorist organization operate out of Yemen, where the US has been linked to carrying out several air strikes. On the record, however, the US has not officially acknowledged these missions, only further angering the families of the victims, including those who lost loved ones in this weekend's assault.Fielding a question about the criticism his targeted-kill program has generated during this administration, US President Barack Obama said last year, it's "important for everybody to understand that this thing is kept on a very tight leash." Despite this claim, though, civilians on the other side of the world see things differently. Local man Mansoor al-Maweri tells CNN that he was near the scene of the deadly strike when it occurred and attempted to transport the bodies of the deceased to the capital city of Sanna after. When his convoy approached the residence of newly elected President Abdurabu Hadi, though, Maweri says he was turned around."You want us to stay quiet while our wives and brothers are being killed for no reason. This attack is the real terrorism," Maweri says."I would not be surprised if a hundred tribesmen joined the lines of al Qaeda as a result of the latest drone mistake," Nasr Abdullah, a local activist, adds to CNN. "This part of Yemen takes revenge very seriously."Even if America fails to acknowledge its role in the drone strikes, opponents of the program have voice their concern before with how it may in fact be reversing the United States' war on terror.After seeing a surge in recruitment with terrorist organizations after the US upped its drone game abroad last year, Princeton University professor Gregory Johnsen told RT, "When the US starts hitting people who are members of Al-Qaeda in the Iranian Peninsula, then I think the real worry is that it expands this war to the point where so many people will join Al-Qaeda.""Drone strikes in Pakistan and the number of civilian casualties that result because of those drone strikes are allowing extremists like the Taliban, Al-Qaeda and other groups present in Pakistan to recruit new members. They are doing it at an accelerating pace," writer Matthew Alexander added at the time.In July, the American Civil Liberties Union filed a lawsuit against the CIA to challenge civilian casualties caused by US-led drone strikes. At the center of their claims was last year's death of Anwar al-Awlaki, a US-born Islamic cleric with suspected terrorist ties. Although never charged with a crime for his rumored association with al-Qaeda, a US drone killed him and two colleagues, including his American-born son, last year."[T]he question is whether the government is justified in killing without charging them or trying them for anything," the ACLU wrote.
You can share this story on social media: