Obama administration considering drone killing of US citizen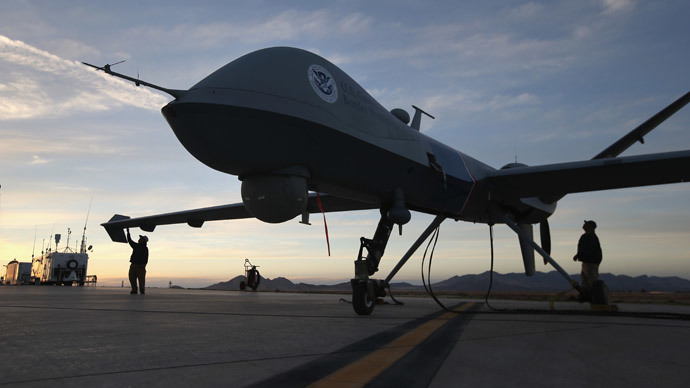 A United States citizen accused of being an overseas "Al-Qaeda facilitator" could soon be killed by an American drone, the Associated Press reported on Monday, but first the US government must find a way to legally launch such a strike.
The person — whose name and suspected location were both withheld by the AP — is believed by US officials to be actively plotting attacks abroad against other Americans. But while the White House has previously admitted that four US citizens have been killed overseas by American drone strikes since President Barack Obama took office in 2009, a policy change made by his administration last year is now causing complications while the government wrestles with deciding which action to take this time around.
Last May, Pres. Obama said he'd be making major changes to the nation's overseas drone program and would be working towards transferring control of those armed, unmanned aerial vehicles away from the secretive Central Intelligence Agency and fully into the hands of the Department of Defense.
According to at least one of the AP's sources, however, the Defense Dept. is uncertain if the individual in question poses enough of an imminent threat to warrant immediate, lethal action without first having that person tried in a court of law.
The CIA still has control over some aspects of America's drone programs, the AP acknowledged, but is barred from issuing any strikes against US citizens. That attribute alone would most likely mean that only the military would be poised to launch such an attack, but first the Department of Justice would be legally obligated to prove their case against the alleged insurgent — something, according to the AP, that has yet to be done.
"If the United States considers an operation against a terrorist identified as a US person, the Department of Justice will conduct an additional legal analysis to ensure that such action may be conducted against the individual consistent with the Constitution and laws of the United States," reads a portion of the policy standards and procedures released by the White House last year.
According to the AP, one of the four officials who acknowledged possible plans to execute the American said the Pentagon was divided over taking lethal action, citing "the potential domestic fallout of killing an American without charging him with a crime or trying him, and the potential international fallout of such an operation in a country that has been resistant to US action."
Another official, however, told the AP on condition of anonymity that the Pentagon has already recommended legal action against the person.
The AP has refrained from publishing information about the alleged Al-Qaeda facilitator's identity or location, but their sources said he is believed to be in a "well-guarded" and "fairly remote location," which would make a ground attack immensely more difficult and all the less likely. Additionally, government officials told the AP that publishing the name of the person's alleged location could interrupt ongoing counterterror operations in the unnamed country — a country, according to the AP's sources, that refuses US military action on its soil.
The AP said that the man being considered for execution is an Al-Qaeda facilitator, according to two sources, that "has been directly responsible for deadly attacks against US citizens overseas and who continues to plan attacks against them that would use improvised explosive devices."
In late 2011, the Obama administration ordered a drone strike in Yemen to kill Anwar Al-Awlaki, an American-born cleric accused of collaborating overseas with members of Al-Qaeda.
"I would have detained and prosecuted Awlaki if we captured him before he carried out a plot, but we couldn't," Obama said when he announced his new drone policies during an address at the National Defense University in Washington, DC last May. "And as president, I would have been derelict in my duty had I not authorized the strike that took him out."
Two US officials now tell the AP that the Justice Dept. began investigating the latest, unnamed alleged American Al-Qaeda member back in the fall, and a senior person within the Obama administration added that the DoJ is using the same legal procedure as with Al-Awlaki to determine what course of action to take.
Regardless, the source added, Pres. Obama "could make an exception to his policy and authorize the CIA to strike on a onetime basis or authorize the Pentagon to act despite the possible objections of the country in question."
After word of the AP story began to circulate Monday morning, Hina Shamsi of the American Civil Liberties Union issued a statement insisting that "The targeted killing of an American being considered right now shows the inherent danger of a killing program based on vague and shifting legal standards, which has made it disturbingly easy for the government to operate outside the law."
"Today's revelations come as the administration continues to fight against even basic transparency about the thousands of people who have died in this lethal program, let alone accountability for the wrongful killings of US citizens," added Shamsi, the director of the ACLU's National Security Project.
In addition to Al-Awlaki, the White House has admitted to killing three other American citizens abroad since 2009 using drones — Samir Khan, Jude Kenan Mohammed and Al-Awlaki's teenage son, Abdulrahman. The administration acknowledged that none of those three were intended to be executed, but were rather killed incidentally as the result of strikes waged against other alleged extremists.
Also on Monday, journalists Glenn Greenwald and Jeremey Scahill published the first stories for their new endeavor, First Look Media, which included accounts made by two former American drone operators who now oppose America's use of unmanned aircraft to launch strikes from thousands of feet above the Earth without pinpoint accuracy. Speaking of drone strikes he personally took part in, one source told the reporters that the victims "might have been terrorists," but added, "or they could have been family members who have nothing to do with the target's activities."
"I had to get out because we were told that the president wanted Awlaki dead. And I wanted him dead. I was told that he was a traitor to our country," one of the operators, Brandon Bryant of the US Air Force, told First Look. "… I didn't really understand that our Constitution covers people, American citizens, who have betrayed our country. They still deserve a trial."
Britain's Bureau of Investigative Journalism estimates that at least 273 civilians in Pakistan, Yemen and Somalia have been killed by drone strikes launched under Obama's watch.
You can share this story on social media: