Atheist seeking US citizenship told to join church or be denied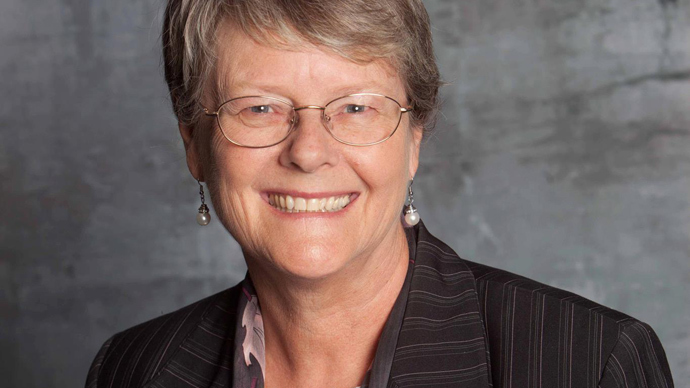 A 65-year-old British atheist who has lived in the US for 30 years has been denied US citizenship, unless she joins a church by Friday.
During her application process to become a naturalized US citizen, Texas resident Margaret Doughty did not agree to bear arms to defend the country, claiming that she was morally opposed to killing. In order to gain citizenship, naturalization applications are required to take the oath of allegiance, swearing to support the Constitution and agree to bear arms for the US Armed Forces, if necessary.
As a result, US Citizenship and Immigration Services told the woman she could not gain citizenship unless she provided documentation proving she was "a member in good standing" of a church that morally opposed the bearing of arms.
But since Doughty is an atheist, providing such documentation is impossible unless she takes up the Christian religion by Friday.
"The truth is that I would not be willing to bear arms," the British native explained on her application. "Since my youth I have had a firm, fixed and sincere objection to participation in war in any form or in the bearing of arms. I deeply and sincerely believe that it is not moral or ethical to take another person's life, and my lifelong spiritual/religious beliefs impose on me a duty of conscience not to contribute to warfare by taking up arms."
The USCIS officers' request has enraged atheist groups, who believe that nonreligious morals should be just as valid as those held by church members. The Freedom From Religion Foundation sent a letter to the USCIS, calling their actions "illegal and unconstitutional."
"It is shocking that USCIS officers would not be aware that a nonreligious yet deeply held belief would be sufficient to attain this exemption," Andrew L. Seidel, a staff attorney at the atheist group, wrote in the letter. "This is a longstanding part of our law and every USCIS officer should receive training on this exemption."
The Daily Kos, a political news and opinion blog, has launched a petition urging the Department of Homeland Security to grant Doughty citizenship and to reverse the policy that allows discrimination against atheists to ensue. The petition had more than 5,000 signatures as of Thursday morning.
A similar case made it to the Supreme Court in 1970, after naturalization applicant Elliot Ashton Welsh II requested conscientious objector status for refusing to bear arms. Welsh said he did not know whether there was a Supreme Being, and said his moral beliefs against killing were based upon "reading in the fields of history and sociology." In Welsh vs. United States, the Supreme Court ruled 5-3 that Welsh could be declared a conscientious objector, even though his beliefs were not based on a religion. The Court also noted that basing the exemption solely on religious beliefs is a violation of the Establishment Clause of the First Amendment, which prohibits the establishment of a national religion or the government's preference of any one religion over another.
The ruling indicates that applicants like Doughty should similarly be able to request conscientious objector status, despite a lack of religious involvement.
"Either the officers in Houston are inept, or they are deliberately discriminating against nonreligious applicants for naturalization," Seidel added.