Obscure underground movement claims responsibility for Russian cross cutting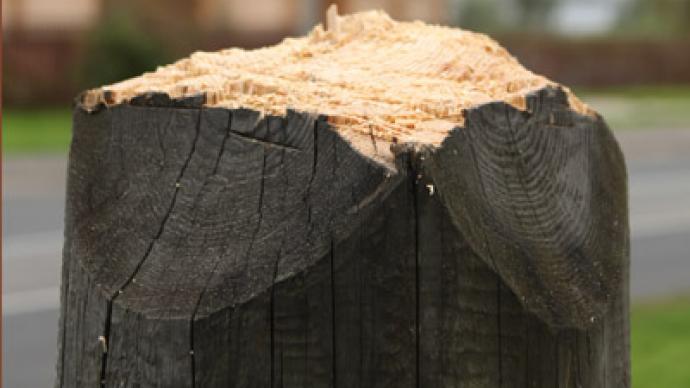 A group calling itself People's Freedom claimed in a statement online that was behind the felling of several Orthodox crosses in two Russian regions, in retaliation for the Pussy Riot trial and for clerics' recent insults of Vladimir Lenin.
The group recalls the 19th-century Russian terrorist organization of the same name, which fought against the tsarist monarchy and assassinated several top state officials, including Emperor Alexander II. Unlike its historical namesake, the modern-day People's Freedom was unknown until now."The Cutting of the Russian Orthodox Church's crosses in the village of Smelovskiy in the Chelyabinsk Region and in the city district Varavino-Faktoriya in Arkhangelsk is a part of our operation codenamed 'cross-felling.' It was carried out by the militant branch of our organization, the mobile combat group called The Unknown," the group wrote on Facebook.Over the weekend, unidentified individuals chopped down and cut into pieces three Orthodox crosses near the village of Smelovsky in the Chelyabinsk Region in the Urals, and one cross in North Russia's Arkhangelsk Region. Police have begun an investigation into the vandalismThe Facebook post claimed that the action was a retaliation against the "arbitrary trial of helpless Russian girls from Pussy Riot" and the "the insults that the head of the Church's department for interaction with the military forces said about the Russian revolutionary leader Vladimir Lenin," as well as announcements by church activists that they were forming neighborhood watch groups.The group demanded the immediate release of the members of Pussy Riot, and threatened similar actions if their demands were not met. People's Freedom urged "all sane forces within the Russian society to leave the Russian Orthodox Church that has nothing to do whatsoever with the Orthodox Christianity".The People's Freedom incident took place about a week after Ukrainian feminist group FEMEN used a chainsaw to cut down a memorial cross in central Kiev. The stunt was an act of protest in support of the members of Pussy Riot – three feminist punk rockers who were recently sentenced to two years each for staging a 'punk prayer' in Moscow's main cathedral against the growing ties between the Russian Orthodox Church and the state.