Kim Dotcom out of jail but still facing US extradition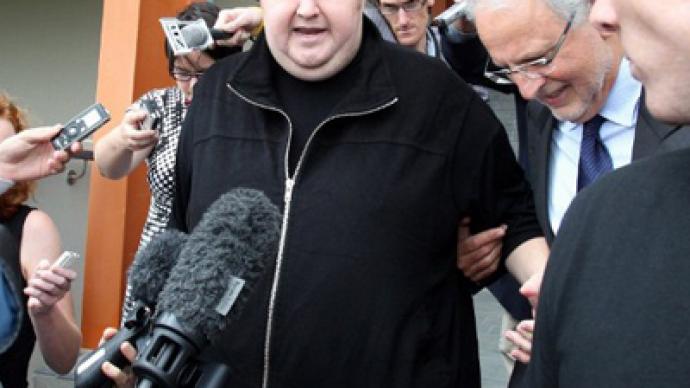 Kim Dotcom, the founder of the now defunct file-sharing site Megaupload, has been released on bail following more than a month behind bars in New Zealand. Now he's preparing to fight extradition to America.
Dotcom, born Kim Schmitz in Germany, was apprehended by authorities on January 20 over allegations that the website he founded in 2005, Megaupload, was the centerpiece of a vast online conspiracy. Authorities attested that through the operation of the site, Dotcom and his associates immensely profited by selling subscriptions and advertisements for a file-storage service that is alleged to have hosted and distributed pirated material. For nearly five weeks, Dotcom has been behind bars in New Zealand, where he was granted residency in 2010. Authorities had denied him bail twice during his five-week stint in jail, citing that the millionaire mastermind of Megaupload would flee the country if released. On Wednesday, a judge finally allowed Dotcom to return home after opining that he would be unable to escape on account of authorities having seized most of his fortune and he would be unable to afford any attempt at exile."I am relieved to go home to see my family, my three little kids and my pregnant wife," Dotcom tells reporters Wednesday upon exiting the court. "And I hope you understand that that is all I want to say right now."Earlier this month, Dotcom pleaded with the court to allow him to rejoin his family. "I will not run away," he insisted then. "I want to fight these allegations on a level playing field. I have three little children. My wife is pregnant with twins. I just want to be with them."Dotcom remained mostly mum during his exit on Wednesday, offering little commentary aside from answering a question on how the police had treated him after his arrest made international headlines."Well, it felt a little bit like an audition to 'American Idol,'" Dotcom explained.It was a questionable comparison for Dotcom to make, given that he has become public enemy number one of the entertainment establishment over his involvement with the file-sharing site. For operating Megaupload, Dotcom is being charged with duping the music industry out of hundreds of millions of dollars by allowing a way for users to share pirated movies, music and television shows — including American Idol. "Conspirators conducted their illegal operation using a business model expressly designed to promote uploading of the most popular copyrighted works for many millions of users to download," reads the Department of Justice indictment filed earlier this year.Within hours of his arrest last month — which was the pinnacle moment of a high-profile raid of Dotcom's New Zealand mansion — online activists that supported Megaupload responded by flooding the servers of the Universal Music Group, the largest record label in America that lists Interscope-Geffen-A&M, the Island Def Jam Motown Music Group and Mercury Records under its umbrella. Hacktivists aligned with several online collectives managed to cripple not just the UMG website, but also disrupted the sites for the FBI, the US Department of Justice, Universal Music Group, the Recording Industry Association of America (RIAA) and the Motion Picture Association of America (MPAA) in response to the raid and arrest of Dotcom, which was coordinated along with the shutting down Megaupload.As Dotcom prepares for his next court appearance in New Zealand now, he will also face a further American Idol-esque audition in the US. Authorities in the United States are hoping to extradite Dotcom to the US to charge him domestically for his role with Megaupload. After coordinating last month's raid on Dotcom's mansion, the DoJ equated the pending charges as being "among the largest criminal copyright cases ever brought by the United States and directly targets the misuse of a public content storage and distribution site to commit and facilitate intellectual property crime." These charges come despite Dotcom operating Megaupload from half-a-world away. Although he primarily resided in New Zealand, Megaupload was hosted out of Hong Kong. According to an Associated Press report early Wednesday, Dotcom confirmed that he will be fighting any extradition attempts by the United States government. In the weeks during which Dotcom was behind bars, the International Intellectual Property Alliance (IIPA) submitted its annual watch list to the Office of the US Trade Representative where it singled out dozens of other countries for lax legislation that allows similar sites to still operate. The IIPA is pressing American authorities to consider harsh sanctions on foreign nations if they do not take measures to further prosecute persons linked to file-sharing sites such as Megaupload.
You can share this story on social media: