Is it back to jail already for Kim Dotcom?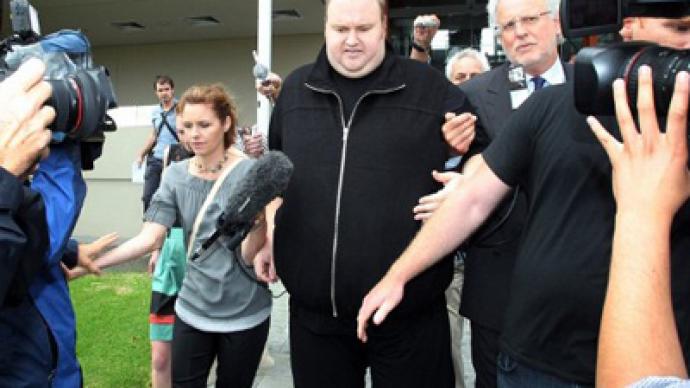 Only a week after a New Zealand court granted bail to Megaupload founder Kim Dotcom, the alleged file-sharing kingpin may soon be going back behind bars. On Wednesday a judge is expected to announce if Dotcom will have to return to prison.
Dotcom, 38, was denied bail twice over his alleged involvement with Megaupload.com, a file-sharing service site he founded in 2005, before being released last week. After more than a month in jail while awaiting trial, a High Court judge granted Dotcom bail last week after siding with defense attorneys that insisted their client could not be considered a flight risk. Authorities in both New Zealand and the United States are now asking Judge Nevin Dawson to reverse his decision, however, and put Dotcom back behind bars while he awaits trial and perhaps an extradition to America.
The prosecution insisted that, if freed, Dotcom would leave New Zealand, claiming that the accused has the necessary means to take refuge anywhere in the world. The judge was expected to weigh in on the appeal Tuesday morning, US time, but is now postponing his decision until Wednesday.
Dotcom, born Kim Schmitz, was apprehended by authorities on January 20 during a high profile raid that also resulted in the seizure of Megaupload and the arrest of several of his alleged associates. He is accused of masterminding a file-sharing conspiracy that cost copyright holders in the States upwards of $500 million.
The news of his arrest and the shut-down of the immensely popular site spawned a widespread response by hacktivists aligned with the Anonymous collective that crippled the websites of several US-based music and entertainment sites, as well as the websites for the US Department of Justice and the FBI.
The prosecution in this case is claiming that the decision to grant Dotcom bail came because the court found "no new evidence" against their client. Anne Toohey, arguing against the Megaupload founder, told the court this week that 20 days was not long enough for prosecution to put together a stronger case against Dotcom, who is being charged with a plethora or crimes related to copyright infringement. In response, Dotcom's attorney Paul Davidson, QC, said American authorities spent "more than a year" investigating his client and that any new evidence that would have put him back in jail could easily have been produced. Davidson also insisted that Dotcom does not pose a flight risk, as the court has already seized travel documents and millions of dollars worth of assets from his client.
Representation for Dotcom also argued that their client should be allowed to continue spending time with his family. Dotcom has three small children and his wife is currently expecting a fourth. She joined him during this week's court proceedings and was reported to have rested on the shoulder of her husband throughout the hearing.
When Dotcom was first granted release last week, he declined to offer much commentary to the media. "I am relieved to go home to see my family, my three little kids and my pregnant wife," Dotcom said after leaving jail for the first time. "And I hope you understand that that is all I want to say right now."
Since Dotcom has been freed, he has worn a court-appointed monitoring device, is not allowed to travel further than 80 kilometers from his home and is prohibited from using the Internet. The Southland Times out of New Zealand reports that since returning to his mansion in Coatesville, he has posted signs outside of his home asking visitors to leave all internet-capable devices behind.
In an interview with the website Torrentfreak this week, Dotcom said he is confident the he will win the trial once it starts and confirmed he will be fighting extradition to America.
"It went way too far, it was out of all proportion, we feel that the action taken against us was political," added Dotcom.
Remarking about the raid that resulted in his arrest last month, Dotcom equated it to a "war zone" and added, "The New Zealand authorities certainly put on a show for the FBI."