Drones to target suspected LAPD killer Chris Dorner?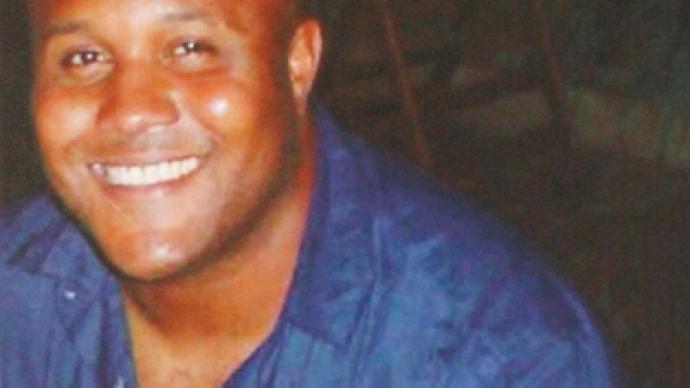 As authorities intensify the manhunt for accused LAPD-killer Christopher Dorner, law enforcement agencies are doing everything under the sun to search for their suspect, apparently even deploying drones.
The specifics regarding the tools being used to track Dorner, a 33-year-old former Los Angeles Police Department officer suspected in three recent murders, is a mystery for now. But with a $1 million bounty out for his arrest and a nation at high-alert, it's no surprise that the search for Dorner is on the way to becoming one of the most remarkable in ages. Now according to some reports, police are relying on high-tech unmanned aerial vehicles to snoop from the sky.Britain's Daily Express cites a senior police source in a report this week as saying that the surveillance capabilities of UAVs might be the only option for locating Dorner, who has been at large since a string of murders that began last Sunday. "The thermal imaging cameras the drones use may be our only hope of finding him. On the ground, it's like looking for a needle in a haystack," the source tells the paper.The Express adds that police figures on both a city-wide and federal scale have suggested drones are being deployed to search for the triple-murder suspect. In his report, journalist Mike Parker writes that Riverside Police Chief Sergio Diaz responded to a direct question about UAV usage by saying, "We are using all the tools at our disposal." Meanwhile US Customs and Border Protection officially denied use of its drones in the hunt for Jordan Dorner. In an email to RT agency's public affairs specialist Ralph DeSio wrote: "Reports that US Customs and Border Protection's unmanned aicraft systems are being used are incorrect. CBP's UAS are not flying in support of the search."But while sending a missile-equipped Predator drone to execute Dorner without trial or jury is without a doubt illegal and, frankly, improbable, it's not entirely unlikely that special UAVs affixed with surveillance cameras are combing the West Coast for him right now. After all, the government has a collection of aircraft to use in these missions and has to make a case that they have been an acquisition that's fiscally worthwhile.The US Department of Homeland Security had an arsenal of at least ten drones as of November, right around the same time that they signed a contract with General Atomics for $443 million: money expected to go towards the acquisition of another 14 surveillance drones that will be used to conduct domestic investigations. In all, those two dozen UAVs are believed to cost roughly three-quarters of a billion dollars, but the end result of having the fleet on the ready is so far one that's flawed. When the Los Angeles Times discussed the matter of drones and the DHS last April, reporter Brian Bennett called into question the success of the program."The mixed results highlight a glaring problem for Homeland Security officials who have spent six years and more than $250 million building the nation's largest fleet of domestic surveillance drones," he wrote. At the time, the DHS was reported to have nine Predator drones, but Bennett said they "have yet to prove very useful in stopping contraband or illegal immigrants."In that same article, the Times touches on just what exactly these drones can do for the DHS. As it turns out, it's not just sub agencies like the Customs and Border Protection or Immigration and Customs Enforcement that have access to those UAVs. According to Bennett, the small collection of DHS drones have been lent to the FBI, Texas Rangers and other government agencies for law enforcement opportunities. Since that April article, drone discussions have only intensified. In the last week, debate about the use of robotic aircraft to conduct kill missions overseas opened news programs across the US, and talk of putting a UAV into the sky to search for the LAPD's public enemy number one earned regard on the Web as well. But while the Obama administration's use of Predator drones to executive suspected terrorists overseas is indeed documented, the deploying of drones in the Dorner case remains a matter that is for now only a likely possibility."The story is plausible," writes Parker Higgins of the Electronic Frontier Foundation in a Monday morning blog post. "The Department of Homeland Security (CPB's parent agency) does loan out drones to police agencies, and they've kept the terms of such deals almost completely secret. EFF is currently suing DHS to find more information about that program. But in this case, the factual support isn't there."Until the LAPD or FBI offer a clean confirmation, use of drones to track down Dorner starts and ends as speculation brewed by the UK's Express that's also absent of any concrete validity. That doesn't mean, however, that it isn't happening. The use of drones on the US/Mexican border by the DHS and its sub-agencies has been documented since at least 2004, and just two years ago drones were being borrowed by small times forces in North Dakota for at least one surveillance mission. "Whether or not these drones are being used in this manhunt, and whether or not they're armed (they're not), there is real cause for concern. A secret aerial surveillance program wherein federal agencies loan military technology to local police forces raises serious questions and we should demand to know more," Higgins says.
You can share this story on social media: