Monkey business: Donald Trump sues Bill Maher over $5 million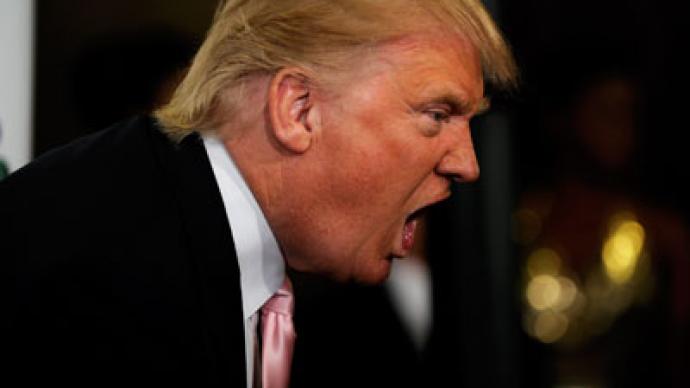 Billionaire real estate mogul and reality television star Donald Trump insists he isn't half-monkey, and says comedian Bill Maher owes him five million dollars because of it.
Trump, who stars on the television program 'Celebrity Apprentice,' sued Maher for breach of contract in Los Angeles County Superior Court on Monday, alleging that the comic and fellow TV personality reneged on a deal that was made over broadcast television.On January 7, the host of Real Time with Bill Maher appeared on NBC's The Tonight Show with Jay Leno, and during a sit-down segment dared Mr. Trump to provide proof that he isn't the product of an interspecific relationship between his mother and an orangutan."Suppose that perhaps Donald Trump had been the spawn of his mother having sex with an orangutan," Maher joked during the interview. "I hope it's not true . . . but unless he comes up with proof, I'm willing to offer $5 million to Donald Trump that he can donate to a charity of his choice.""I didn't just make this up," Maher added. "The color of his hair … and the color of an orange orangutan is the only two things in nature of the same color."In response, the billionaire's counsel sent Maher a copy of Mr. Trump's birth certificate the following day, proving in fact that he is the offspring of a Mr. Fred Trump. "A contract was formed between Maher and Mr. Trump as of the moment the Acceptance Letter was sent," his attorneys claim, according to legal filings obtained by Courthouse News Service. Nearly one month later, Trump's lawyers are seeking the full sum, plus interest, and are asking for a trial by jury. Additionally, Trump's team has provided the name of five charities it wishes to have the money paid to.Maher's quip was likely in response to a proposition Trump had recently made in which he extended five million dollars to a charity of US President Barack Obama's choice if the commander-in-chief published his college records. When the president declined to respond to the request, Trump rescinded the offer.On his part, Maher has not publically responded to Trump's latest lawsuit: except for one dispatch sent over Twitter:"What?? Really? Hahahahahahahahahahahahahahahahahahahahahahahahahaha," Maher wrote.During the Tonight Show appearance, Maher also called Trump "a terrible racist" and suggested that the mogul's Twitter stream was operated by "a syphilitic monkey." Trump's attorneys have declined to sue for defamation.
You can share this story on social media: