Security with a woman's touch: Did DHS discriminate against males?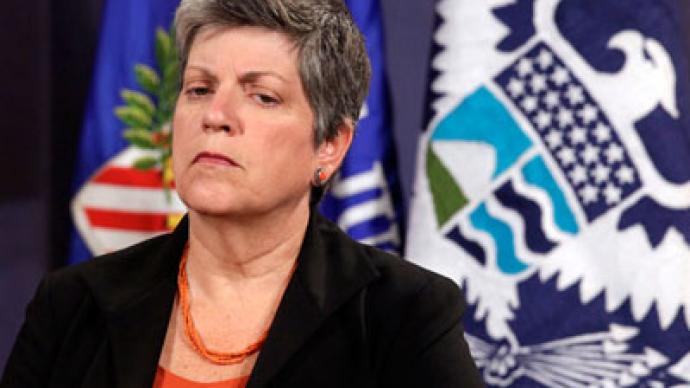 Two lawsuits have charged the Department of Homeland Security of anti-male discrimination and nepotism. The agency superiors promoted women over men, turned a blind eye on sexual harassment and retaliated against complainants, it is alleged.
One of the lawsuits that made headlines this week comes from James T. Hayes Jr., a longtime special agent at the DHS division of Immigrations and Customs Enforcement (ICE). He focuses on two appointees of agency's head Janet Napolitano.Hayes claims that Suzanne Barr, ICE chief of staff, would regularly intimidate male subordinates with sexually-offensive behavior. On one occasion she called a male employee to her hotel room and demanded to perform oral sex on him, the complaint says. Another time Barr covertly took a male Special Agent's Blackberry phone and sent a message to one of his female colleagues indicating that he "had a crush on the female supervisor and fantasized about her," Hayes said.In one instance, the suit alleges, Barr "moved the entire contents of the offices of three male employees" to the men's bathroom. She also promoted or rewarded men, who "would play along with her sexually-charged games," including the three relocated males, the complaint alleges. The lawsuit describes the situation as "a frat-house type atmosphere that is targeted to humiliate and intimidate male employees."Hayes also alleges that Dora Schriro, who served as Napolitano's special adviser on ICE Detention and Removal Operations at the time Hayes headed it, got her position despite not being qualified for the job. The lawsuit insists Schriro "enjoyed a long-standing relationship" with Napolitano of a nature not described, and that Hayes was being replaced in his duties by Schriro because of this relationship and because Hayes is male.The lawsuit says Hayes threatened to complain about alleged abuses against him to the Equal Employment Opportunity office, after which at least six investigations against him have been launched or reopened. Hayes believes them to be retaliation on the part of the DHS in an attempt to intimidate him not to file complaints.Hayes has held a number of high-ranking assignments at the DHS. He currently holds a post as special agent in charge of New York City ICE. His lawsuit against the DHS was first reported by conservative blogger Debbie Schlussel on Wednesday.
Seniority sorority
A separate lawsuit against DHS over alleged discrimination was filed by ICE employee Jason Mount, according to a report in The Post tabloid. Mount came up with his charges in late July, about two months after Hayes.Mount alleges that he was denied 43 promotions despite being fully qualified because he is a white male. Those include his September 2010 application to fill an assistant-special-agent-in-charge post with Homeland Security Investigations in Boston. Mount says he received "a rating of 100 per cent on the knowledge, skills and abilities rating factors for the position." Nevertheless the job went to a woman, Linda Hunt, who had not completed an 18-month tour of duty at HSI headquarters in Washington, which "is required to be considered for an ASAC position," the suit says.Due to "pervasive retaliation and discrimination," Mount says he asked for a reassignment in December 2011, "stating that he would be willing to accept a downgrade" in rank and pay. He was moved to a new post in Boston three months later.After the Hayes' suit was reported, the DHS issued a statement denying the claims."ICE doesn't comment on unfounded claims and will respond to Mr. Hayes' allegations as appropriate through the judicial system," a DHS spokesman said.A representative for Schriro also issued a statement saying her "selection and service at DHS were based on her merits. Any suggestion to the contrary is false."Regarding Mount's allegations an ICE spokeswoman Barbara Gonzalez said she was "looking into the matter" and would provide "additional details as soon as they become available."
You can share this story on social media: