It's not just Homeland Security: US Army orders riot gear too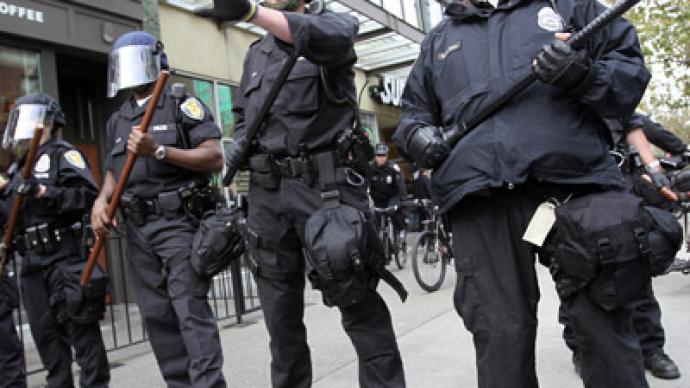 It's more than just stockpiling surveillance drones to spy on US citizens: the United States Army is attempting to procure an arsenal of riot gear in case the military must go toe-to-toe with civilians on US soil.
A solicitation for weapons posted on the official government website for federal business opportunities reveals that the US Army has been in the market for nonlethal equipment that it very well might be used in the United States. In a Web posting made earlier this summer, the Army asked for bids regarding its request for riot shields, face masks, polycarbonate batons and body armor. On July 10, they awarded the contract to A2Z Supply Corp of Stevensville, Montana, who pledged to fulfill their request at the tune of $6,589.98.The latest inquiry from the US Army was filed only a few weeks before another call for bids was published by the Department of Homeland Security. On July 26, the DHS Office of Procurement Operations also wrote on FBO.gov that they were soliciting contractors to help equip them with riot helmets, tactic gloves, shin guards, body armor and other equipment comparable that could be used in tandem with a complex "riot control system." According to the 2001 Executive Order that established the DHS signed by then-President George W Bush, the agency "will coordinate the executive branch's efforts to detect, prepare for, prevent, protect against, respond to and recover from terrorist attacks within the United States." With an agency assigned only domestic duties asking for thousands of dollars' worth of riot gear — and an army with more than one million soldiers seeking body army, not assault rifles — many are suggesting that the solicitation requests are readying the government for a full blown war with its own people on US soil.Both requests were published within days of a recent Capitol Hill testimony delivered from Homeland Security Secretary Janet Napolitano that included excerpts confirming that the federal government is considering deploying surveillance drones over California as means of proactively patrolling American cities under the guise of "public safety." Meanwhile, the city of Anaheim, California has come into the spotlight in recent days for hosting a week of consecutive protests targeted the city's allegedly corrupt police department. Last weekend, two men were shot and killed by officers with the Anaheim PD. Peaceful demonstrations that erupted afterward spawned yet more violence being dished out by the local law enforcement, escalating tensions between civilians and cops and causing many to declare that the brutal policing is a localized attempt to install military rule over the people. Now with domestic agencies and the national Army both asking for riot gear, the unrest in Anaheim that has already spilled into other US cities could be soon matched with government opposition — and opposition well equipped.
You can share this story on social media: