Canadian denied entry to the US after agent cites private medical records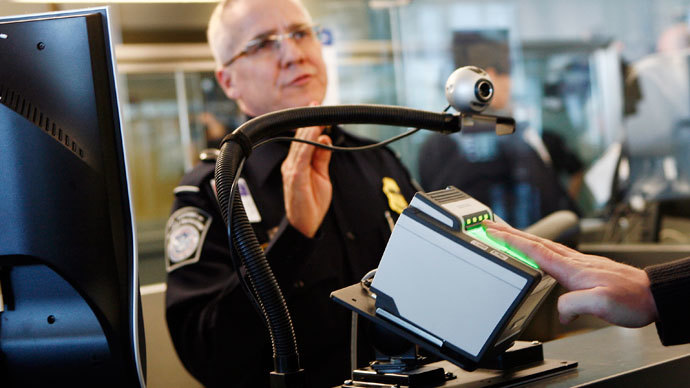 A wheelchair-bound Canadian woman was denied entry to the United States this week because she was previously diagnosed with clinical depression. Now she wants to know why the US Department of Homeland Security had her medical history on file.
The Toronto Star's Valerie Haunch reported on Thursday that 50-year-old author Ellen Richardson was turned away from the city's Pearson Airport three days earlier after DHS officials said she lacked the necessary medical clearance to cross into the US.
"I was turned away, I was told, because I had a hospitalization in the summer of 2012 for clinical depression,'' Richardson told the Star.
The woman, who has been paraplegic since an unsuccessful suicide attempt in 2001, was planning to fly to New York City to start a 10-day Caribbean cruisein collaboration with a March of Dimes group, and had already invested around $6,000 into the trip, she told the paper.
"I was so aghast. I was saying, 'I don't understand this. What is the problem?' I was so looking forward to getting away . . . I'd even brought a little string of Christmas lights I was going to string up in the cabin. . . . It's not like I can just book again right away," she said.
But according to what American officials told her, it would take the permission of US government-approved doctor and around $500 in fees in order to enter the country. Richardson soon left the airport defeated, but only afterward did she begin to raise questions about what the DHS knew about her.
"It really hit me later — that it's quite stunning they have that information," she told CBC.
Richardson said she has been on numerous cruises since 2001, and traveled through the US for all of them. Only this week, however, did the DHS cite the June 2012 hospital stay, spawning questions about how much personal information American officials hold on foreign persons.
According to Richardson, the border agent told her that the US Immigration and Nationality Act allows the government to deny entry to anyone with a physical or mental disorder that may pose a "threat to the property, safety or welfare," and that her "mental illness episode''  from last year warranted extra attention.
"The incident in 2012 was hospitalization for depression. Police were not involved,'' her attorney, David McGhee, told the Star, adding that he approached Ontario Health Minister Deb Matthews as well "to tell me if she's aware of any provincial or federal authority to allow US authorities to have access to our medical records."
"Medical records are supposed to be strictly confidential," McGhee said.
"We don't know how deep the connection is between US customs" and Canadian authorities, Richardson's member of Parliament, Mike Sullivan, told CBC. With her story quickly going viral, however, others hope to soon find out the full scope of the data being managed by the DHS.
"This is scary," MPP France Gelinas told the Star for a follow-up published Friday morning. "They got access to information that should never have been accessible to anyone."
"Canadians must be assured that their personal records are kept confidential, as intended," Sullivan added to Hauch's latest report.
As RT reported previously, employees of the DHS' Transportation Security Administration, or TSA, have access to huge databases, both federally and privately run, which contain information on travelers including tax ID numbers, past itineraries and even physical characteristics. As for hospital visits in other countries, however, Richardson and others generally expect that information to be not on file.
According to Star reporter Jack Lakey, an Ontario health ministry official said Thursday that US authorities "do not have access to medical or other health records for Ontarians travelling to the US."
"If the province didn't knowingly hand over the information, it only leaves the federal government as the source, possibly in some kind of information sharing agreement with the US that we aren't supposed to know about," Lakey speculated. "Given its recently revealed complicity in allowing the U.S. to spy on G8 and G20 leaders when they gathered here in 2010, it is no stretch to believe Ottawa is also playing ball with them on this."
You can share this story on social media: