Three people injured in Denver marijuana celebration shooting (PHOTOS)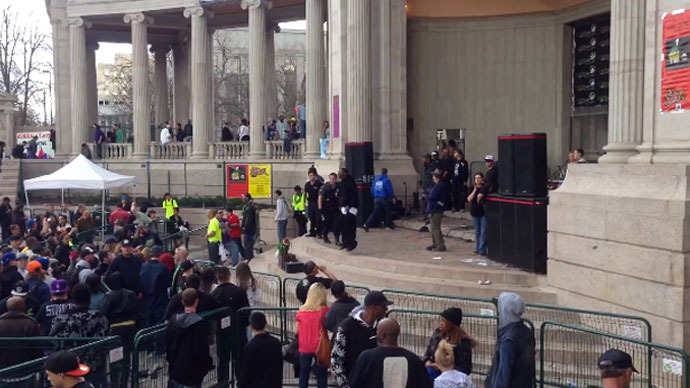 A marijuana celebration in Denver turned violent, with three people shot and wounded in a shooting. A hunt for two suspects is currently on.
A man and a woman were each shot in the leg and a youth was grazed by a bullet. The woman and the man were taken to hospital in serious condition, but the wounds were not life-threatening, Denver police reported on Twitter. 

A dog was also injured in the shooting.

The celebration was taking place in honor of Colorado's legalization marijuana.

"I heard five or six gunshots in quick succession. That's why I knew it wasn't fireworks. Then everybody started to scatter and ran toward one end of the park," Cole Wagenknecht, who attended the event, told Reuters.
It was not immediately clear what started the shooting.
In November, voters in Colorado and Washington states were the first in the country to approve recreational use of marijuana.
However, the US federal government strongly disapproves of the move. US officials have pointed out they are considering how to respond to the legalization.