Shocking truth about retired generals revealed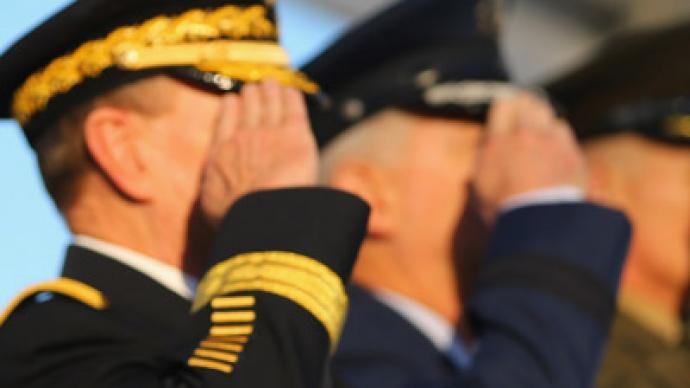 Nearly three quarters of high-ranking US generals cash in on their military experience by working for defense contractors after retiring, often still advising the Department of Defense and creating a potential bias in the government.
Seventy percent, or 76 of 108 three-and-four star generals and admirals who retired between 2009 and 2011 took jobs working for defense contractors or consultants, often making more than the $164,221 to $179,700 base salary they made working for the US government. The data comes from a new report by Citizens for Responsibility and Ethics in Washington and the Brave New Foundation, which suggests that the high-ranking generals are creating a conflict of interest in their lucrative undertakings.While it is not illegal to move from the public sector into the private sector for financial gain, many of these generals still continued to advise the Department of Defense after their retirement, thereby creating a potential bias in the relationships between the military and its contractors. Many of these private companies, employed by the US government, make billions of dollars.At least nine of the top-level generals and admirals took jobs working for the five largest defense contractors. The Department of Defense spent $100 billion with Lockheed Martin, Boeing, General Dynamics, Raytheon and Northrop Grumman in 2011, all of which currently employ former three-and-four star generals and have each received several billion dollars in Defense Department contracts in one-year period.Gen. James Cartwright is currently paid to serve on Raytheon's board of directors, while also serving on the Defense Policy Board. Adm. Gary Roughead also served on this board while earning $115,000 per year advising Northrop Grumman. As advisors for both the Department of Defense and the contractors the government hires, the general and admiral likely had a conflict of interest.Each of the five largest defense contractors also spent millions lobbying representatives in Washington and contributing to campaigns. Boeing spent $86.93 on lobbying since 2007. Hiring former high-ranking generals that still advise the Department of Defense has the potential to be a cost-effective way to influence the government and simultaneously gain valuable insight from an insider perspective.The report comes at a time when high-ranking generals are under increased scrutiny for all of their questionable actions. Gen. David Petraeus' extramarital affair with biographer Paula Broadwell began a surge of criticism and research into the lives and careers of some of America's most powerful men.Four-star Gen. William Ward was this month demoted and stripped of a star for spending $82,000 in government funds to cover the costs of his own extravagant travel.The Petraeus affair has also generated a fascination with the secret lives of generals among the American public. The Washington Post on Saturday detailed the perks of such lives, noting that Petraeus was once escorted to socialite Jill Kelley's Florida mansion by 28 police motorcycles.Many of the commanders have their own C-40, which is the equivalent of a Boeing 737 and often include their own beds.But regardless of their large salaries and lavish benefits, nearly three quarters off these high-ranking officials choose to top of their finances by working for private contractors upon their retirement, putting the Department of Defense into a situation that could create a potential bias.
You can share this story on social media: