Death Star not dead? Star Wars fans raise $380k for open source project, aim for more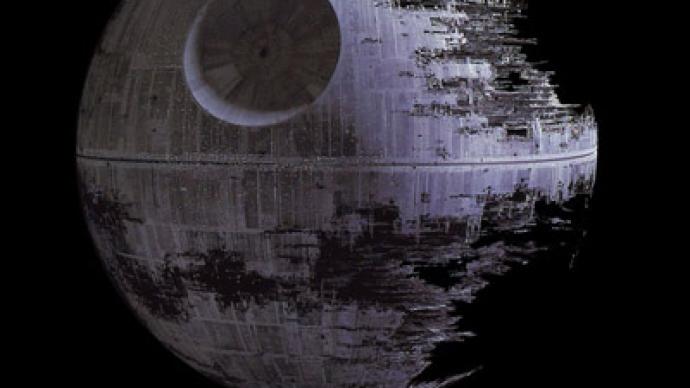 Sci-Fi fans pushing for the creation of a Star Wars inspired "Death Star" have raised almost US$400,000 on a fundraising site to make it happen. It comes after Washington turned down a petition for its construction, citing astronomical costs.
Undeterred by Washington's lack of enthusiasm, supporters of the proposed Death Star have generated an account on Kickstarter – a funding platform for creative projects, which asks for direct financial support from others in order to bring an idea to life.  The open source Death Star page is initially aiming to raise 20,000,000 pounds ($31.5 million). The money would be used to design more "detailed plans and enough chicken wire to protect reactor exhaust ports."It may seem like a lot of money, but it's just a drop in the bucket compared to the Death Star's estimated construction cost of 543 quadrillion pounds ($850 quadrillion), which was quoted by the US government. Backers of Kickstarter projects usually receive a reward for pledging their money – and the Death Star project is offering its own set of incentives. The prize is rather modest for those who pledge 1 pound ($1.58) or more. According to the Kickstarter page, they receive only "our thanks and the knowledge that we're one step closer to a safer planet."However, more generous spenders receive a more impressive reward. Those who pledge 10 pounds or more are promised to have their name "etched onto the underneath of one of the MSE-6-series repair droids used on the finished station."With 49 days to go, the project currently has 1,473 backers – 968 of whom are in line to have their name etched into Death Star history. Thus far, the project has raised 240,816 pounds ($380,392) of its first goal. It's a low-risk situation for supporters, because unless the entire goal amount is reached backers don't have to pay a penny. And if the idea seems a little too 'out there' to be taken seriously, that's because it is. "The main challenge is assuring Kickstarter that this is a joke and not a serious project. As proof, the goal has been set high enough to make successful funding almost impossible," the page reads underneath the project's 'Risks and Challenges' section. The Kickstarter project comes after the US government rejected a petition to create the Death Star, giving three reasons why the project wasn't viable: • The construction of the Death Star has been estimated to cost more than $850 quadrillion. • The Administration does not support blowing up planets.• Why would we spend countless taxpayer dollars on a Death Star with a fundamental flaw that can be exploited by a one-man starship?The response was authored by Paul Shawcross, who oversees the science and space departments at the White House, and was titled, 'This Isn't the Petition Response You're Looking For.'Washington had to respond to the petition, which was posted on the White House's 'We the People' website. The US previously vowed to give an official response to any petition generating 25,000 signatures or more – including those lobbying for Death Star construction. The petition received 34,435 signatures. The signature threshold for petitions has since been raised to 100,000, making it more difficult to receive a response from the administration.
You can share this story on social media: