Chavis Carter's death ruled a suicide, autopsy reveals
Published time: 20 Aug, 2012 18:59
Edited time: 20 Aug, 2012 22:59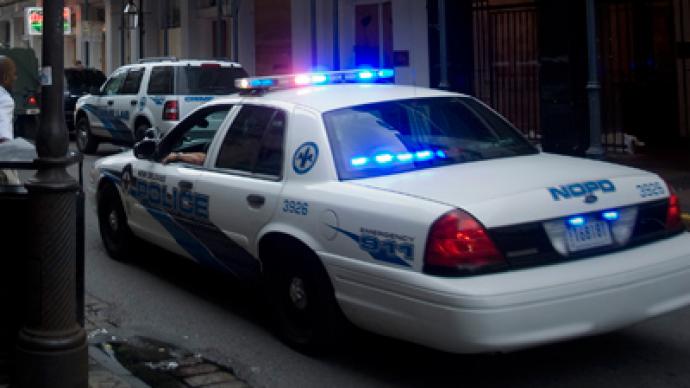 Investigators have finished their autopsy on a 21-year-old Arkansas man said to have shot himself in the head while handcuffed in the back of a police patrol car. According to the report, Chavis Carter's death is formally being ruled a suicide.
Carter was pronounced dead on July 28 after police officers discovered his body in the backseat of their Jonesboro, Arkansas cop car. He had been arrested moments earlier during a routine traffic stop for possession of marijuana and was dead only minutes after being placed in the back of the cop car. The local law enforcement agency has insisted in the weeks since that officers had frisked Carter twice for contraband before handcuffing him and placing him in the backseat of the vehicle, but did not find a firearm on him during their search.
The family of the deceased Jonesboro man has insisted that Carter could not have killed himself while detained. To support their accusations, the police department produced a video last week that reenacts just how they say Carter could have produced a gun from his waistband and fired a single shot to his right temple.
The video only brought more media attention to a mysterious crime that has raised questions from law enforcement as well as concerned citizens. According to the autopsy report released Monday morning, the cops' allegations that Carter killed himself were correct.
"He was cuffed and placed into a police car, where apparently he produced a weapon, and despite being handcuffed, shot himself in the head," the report says.
"At autopsy, the cause of death was a perforating gunshot wound of the head. At the time of discharge, the muzzle of the gun was placed against the right temporal scalp. The bullet perforated the cranial cavity, causing brain injuries, skull fractures, and death. The bullet exited the left side of the head. The manner of death is based on both autopsy findings and the investigative conclusions of the Jonesboro Police Department," the report continues.
The Associated Press has obtained a copy of the state's crime lab report after filing a Freedom of Information Act request. According to the AP, three medical examiners have signed off on the report, which concludes that Carter placed the muzzle of a gun against his own head and pulled the trigger while in police custody.
Last week, the Jonesboro Police Department released video taken from the dashboard camera inside of the patrol car, though the footage they made available did not include anything recorded immediately before or during the shooting.
"There's still nothing in there about what actually happened with Chavis," Benjamin Irwin, a Memphis-based lawyer representing Carter's family, told the AP at the time.
The Jonesboro police department then produced a second video, which did not begin until after Carter was found dead.
"The average person that's never been in handcuffs, that's never been around inmates and people in custody would react exactly the same way that you just did, about how can that be possible," Police Chief Michael Yates told CNN's Randi Kaye earlier this month . "Well the fact of it is, it's very possible and it's quite easy."