Deadly US drone strike violated civilian protections promised by Obama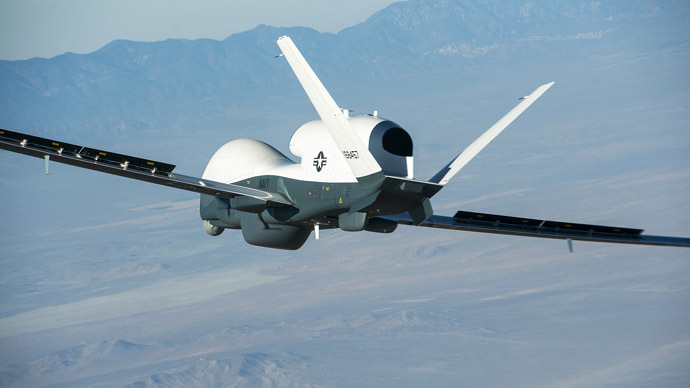 The United States may have killed up to 12 civilians during a drone strike in Yemen last year, possibly violating both international law and the Obama administration's own targeted killing policy, according to a report by Human Rights Watch.
While US officials have claimed the December 2013 strike only killed members of Al-Qaeda, witnesses of the incident told HRW that the US actually ended up targeting a wedding procession. The witnesses said everyone killed and injured was a civilian.
For its part, the report found that the group targeted was indeed a wedding convoy, though it also allowed for the possibility that militants – whose identities are still unknown – were part of the group. Regardless, the report suggests that at least some civilian casualties were involved.
At least 12 men were killed as a result of the four Hellfire missiles launched at 11 vehicles, while another 15 were injured. Both US and Yemeni officials have also stated that the primary target of the strike, an Al-Qaeda leader named Shawqi Ali Ahmad al-Badani, was not killed and managed to escape.
"We asked both the Yemeni and the U.S. authorities to tell us which of the dead and wounded were members of militant groups and which if any were civilians," report author Letta Tayler, a senior terrorism and counterterrorism researcher at HRW, said to the Associated Press. "They did not reply to this question."
"While we do not rule out the possibility that [Al-Qaeda] fighters were killed and wounded in this strike, we also do not rule out the possibility that all of those killed and wounded were civilians."
Either way, the report stated that if the United States failed to differentiate between noncombatants and militants before carrying out the strike, it may have violated international law "by causing civilian loss disproportionate to the expected military advantage."
Additionally, the attack may have violated the targeted killing policy detailed by President Barack Obama in May 2013, in which he stated the need for "near certainty" that civilians would not be harmed by a strike. The US "has also failed to demonstrate that the alleged target was present, could not feasibly have been arrested, or posed a 'continuing and imminent threat'—three other US policy requirements," the report stated.
Three unnamed US officials told the AP the government has conducted two investigations of its own into the incident, both of which confirmed its initial claim: that only militants were killed in the strike. These reports have not been released to the public.
"When we believe that civilians may have been killed, we investigate thoroughly," Caitlin Hayden, a National Security Council spokeswoman, told the AP. "In situations where we have concluded that civilians have been killed, the U.S. has made condolence payments where appropriate and possible."
Still, Hayden wouldn't confirm or deny whether any of those affected by this particular strike have received compensation.
In its report, HRW urges the US to conduct a transparent investigation into the incident, hold individuals accountable for any wrongdoing, and properly compensate the affected parties.
"The US refusal to explain a deadly attack on a marriage procession raises critical questions about the administration's compliance with its own targeted killing policy," Tayler said in a statement. "All Yemenis, especially the families of the dead and wounded, deserve to know why this wedding procession became a funeral."
Meanwhile, updated figures by the New America Foundation have also shed light on American drone activity in Yemen. Since 2002, drone strikes in the country have killed between 78 and 84 civilians, with another 30-50 deaths that cannot be classified. With more than 900 total strikes carried out, somewhere between 600 and 800 enemy combatants have been killed. With the singular exception of one 2002 strike, all have been carried out by the Obama administration.
You can share this story on social media: