Two dead, tens of thousands evacuated as worst fire in Colorado history spreads
Published time: 14 Jun, 2013 00:00
Edited time: 14 Jun, 2013 05:20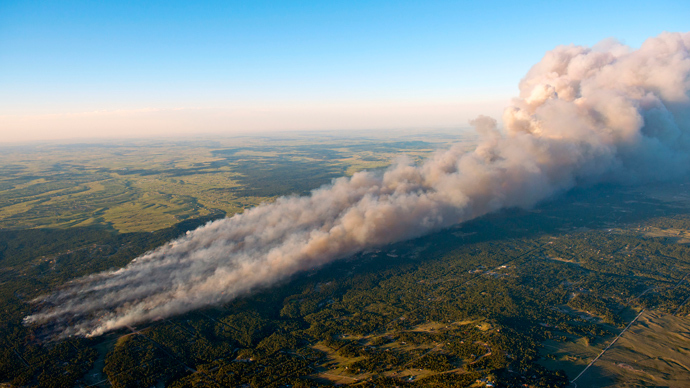 An immediate, mandatory evacuation was ordered Thursday for Colorado Springs, Colorado as the Black Forest fire, the most destructive wildfire in state history, approaches Colorado's second-largest city.
The fire has already burned 360 homes and damaged at least 14 more, affecting approximately 38,000 people in 13,000 homes across the state. The blaze is expected to continue over the next few days, with temperatures forecasted in the 90s and wind gusts passing 30 mph.  
"The winds yesterday really stirred the fire and pushed it off in quite a few directions," El Paso County Sheriff Terry Maketa told reporters Thursday. "Wind is probably our number one threat. It is what has been the game changer. It is what has changed the conditions. I don't know any other word to describe it but 'very dynamic.'"  

The remains of two people have been recovered near the Black Forest wildfire, according to 9News in Denver. The victims were found in a heavily wooded area that was not destroyed by the fire, with authorities saying they were packing to evacuate but did not make it out on time. Their bodies were found in their garage not far from the car. 
A criminal investigation was underway, with the county coroner expected to examine the bodies Thursday. 
The Black Forest fire alone has affected 25 square miles, and with 750 firefighters fighting the blaze authorities admitted only five per cent had been contained.
Colorado Governor John Hickenlooper signed three disaster emergency authorizations Thursday, which will devote $10.15 million to helping firefighters put out the inferno. Three fires have been burning simultaneously, forcing tens of thousands to evacuate.

The El Paso Sheriff's Office, which counts the 400,000 people who live in Colorado Springs under its jurisdiction, warned via Twitter that the "MANDATORY EVACUATION order means you are in immediate danger. Load your family and pets, and GO NOW." 
Thursday's order affected an additional 13,000 homes across 94,000 acres, extending from Black Forest north into Elbert County, according to the Denver Post. No injuries to firefighters or civilians have yet been reported, although Sheriff Maketa said there had been reports of people who refused to evacuate their homes, putting themselves at risk. 
The Black Forest fire has already ravaged 15,700 acres. Areas south of Colorado Springs were under a pre-evacuation notice as of Thursday afternoon. 

"The wind-driven fire quickly grew in size and intensity, prompting the evacuation of 190 homes and subsequently the Colorado Territorial Correctional Facility," the order stated, referring to the Royal George fire in Fremont County. "The fire started on the south side of the river and spotted to the north side. All available firefighting resources were committed to firefighting and structural protection." 
The Royal George fire was only about 20 per cent contained by Wednesday night after burning about 3,000 acres approximately 15 miles from Cañon City. This inferno destroyed at least 20 buildings on both sides of the historical Royal Gorge Bridge, a popular tourist attraction stretching 950 miles above the Arkansas River that was reportedly damaged but still intact. 
Maketa advised residents to watch for information updates, as the "staggering" situation has rapidly changed through the day. 
"Home assessments can change in 10 minutes," he said. "We are trying to keep it as accurate as possible. Homes we knew were standing (Wednesday), I personally witnessed going down last night."

#prayforcoloradopic.twitter.com/JY0ADpyoIR

— Peter McEvoy (@PeterMcEvoy2) June 12, 2013