UC Davis 'pepper-spray cop' to go on trial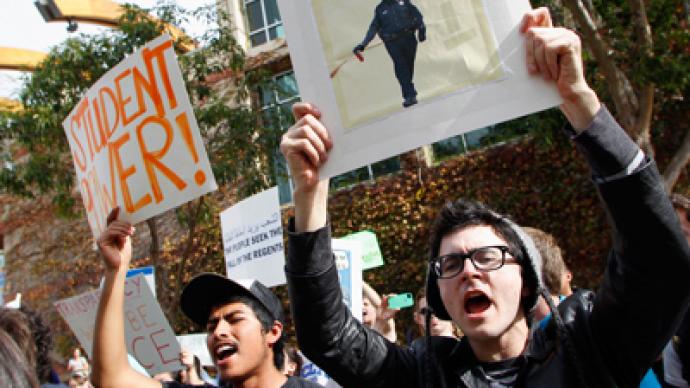 Nearly two-dozen students that were doused with military-grade pepper-spray while protesting at a California college last year are now taking their assailant to court.
The American Civil Liberties Union of North California is aiding in a just-filed lawsuit against employees of the University of California, Davis, where 19 students and alumni were sprayed by a campus cop during a protest last November. Lieutenant John Pike achieved Internet infamy after he was photographed and videotaped delivering a heavy dose of pepper-spray to more than a dozen seated demonstrators outside a UC Davis building last year. Protesters had gathered at the school to demonstrate against rising tuition hikes and campaigned under the umbrella of the then-infant Occupy movement. As protesters sat peacefully, Pike attempted to disrupt their demonstration by debilitating participants with bursts of pepper-spray to the face. Unfortunately for Pike, the incident went viral online which, in turn, only strengthened the Occupy movement as more Americans became outraged by the establishment's not-so-nice interpretation of the First Amendment.Pike is now named in a lawsuit filed Wednesday, which is also aimed at the school's chancellor, provost and other administration officials and campus police. The ACLU, representing the victims, charge the defendants with failing to properly train and supervise officers, which they say resulted in a "series of constitutional violations against the demonstrators. "In a press release that accompanies Wednesday's suit, the ACLU attests that "the University's response to seated student protesters amounts to unacceptable and excessive force that violates state and federal constitutional protections, including the First Amendment to the U.S. Constitution."By taking the matter to court, the ACLU hopes that institutions across America will think twice before allowing local law enforcement to follow in the footsteps of Pike."Our goal in this lawsuit is to ensure the university makes a clear commitment to protect free speech on campus and prevent this from ever happening again," Michael Risher, a staff attorney with American Civil Liberties Union Foundation of Northern California, explains to the Los Angeles Times.In a statement of his own, Risher condemns last year's assault, saying that "Using military-grade pepper spray and police violence against non-violent student protesters violates the constitution, and it's just wrong. When the cost of speech is a shot of blinding, burning pepper spray in the face, speech is not free."After the incident initially occurred, Pike was temporarily suspended from the squad at UC Davis. Hacktivists allegedly aligned with the online group Anonymous also responded to the events by releasing private information, including the cell phone number and home address of Pike. In the aftermath, University Chancellor Linda Katehi openly apologized for Pike, amidst calls for her to resign from her position.
You can share this story on social media: