9 killed, tens of thousands without power as multiple tornadoes hit Oklahoma: LIVE UPDATES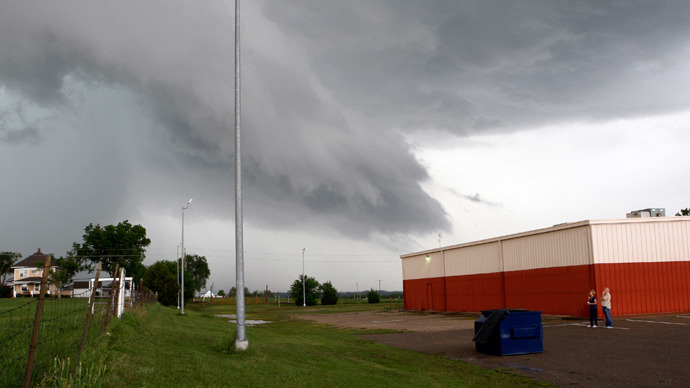 As many as five tornadoes were reported across Oklahoma Friday, with nearly a hundred thousand people without power following the storms. At least nine people, including two children have been killed, and much of the state is now flooded.
Read RT's full story on tornadoes in Oklahoma.


16:10 GMT: The Oklahoma Office of the Chief Medical Examiner, Amy Elliot, told reporters that 7 adults and 2 children are confirmed dead including a mother and her child.

11:00 GMT:  200 roads have been closed across Missouri on account of flooding, the state Department of Transportation said on Saturday morning. Governor Jay Nixon had declared a state of emergency late on Friday, in anticipation of the fast-moving threat from severe weather conditions.
08:15 GMT: The tornado warnings for Newton and Searcy counties in Arkansas have been lifted. However, parts of Arkansas and Missouri are still under tornado and flash flood watch.

07:45 GMT: National Weather Service's initial estimates said that winds had been between 80 and 100 mph, stating that it hadn't been as strong as the Moore tornado. However, it still had "everything you could handle at one time: tornadoes, hail, lightning, heavy rain, people clogging the highways," according to National Weather Service at Norman's meteorologist, Rick Smith. 

07:20 GMT:
Tornado warnings are no longer in place for Oklahoma.
Flash flooding is continuing to wreak havoc across Oklahoma City's metropolitan area.
"It literally has filled this place up like a swimming pool," Goodyear Tire and Auto shop owner Pat Smith told KFOR, labelling it the worst flooding he had witnessed in three decades.

07:15 GMT: A meteorologist with The Weather Channel, Mike Bettes, and his crew reported their vehicle being flung 200 yards (183m) by the storm, saying that they saw their lives flash before their eyes.

"We stopped to broadcast. What we were trying to do was just get away from it….we ended up –all three of our vehicles that we chased with – were all hit by it. Two of them are okay and operable. The vehicle that I was in, and two photographers - Austin and Brad - we took a ride. The tornado threw us 200 yards off the highway into a field. Vehicles smashed. Everyone had their seatbelts on and just ducked. Our airbags all deployed. We have a big SUV that we ride in…the roof was smashed in, the front was smashed in, the front wheels are hanging off of it. I don't know what to say…that was the scariest moment of my life…we were tumbling. We tumbled…6-8 times, and then we were airborne at one point – we were just floating, and we weren't tumbling anymore, and then we came down hard."

06:45 GMT: The tornado warning that was in effect for neighboring Washington County, Arkansas, has been reduced to a 'severe thunderstorm' warning in the east.

06:30 GMT: The official number of recorded deaths from the May 20 Moore tornado, also in Oklahoma, has been reduced to 23 from an initial 24, according to the National Weather Service, with one being re-designated as an 'indirect death.' The identity of the victim remains unknown.

05:50 GMT: Local news stations are urging people to ensure that nobody has been left trapped in any wreckages resulting from the disaster.

Good Samaritans go to Union City after tornadoes to search for those needing help, might be trapped. on.kfor.com/omnBmwL#OklaStandard

— KFOR (@kfor) June 1, 2013

Flooding is proving a serious problem for residents and reporters alike, with the channel's Adam Mertz saying "where we ended up, it seemed about three feet of water...it was almost waist deep...almost impassable at certain spots; it was almost worse to turn out of it, because then you didn't know what you were turning into."

"When we got out of there, it [the car] was tilted towards the driver's side, and you could see the water coming in...we rolled down the windows immediately because the waters seemed to be coming up real quickly on us," he recounted.

05:20 GMT: A further 50 people have been reported injured during the devastation, with five in a critical condition, according to an Integris Health System spokeswoman.

Just found out that it is a miracle that we lived. The tornado touched down on both sides of the mall. Completely just skipped right over us

— Kendall Mraz(@KendallMraz) June 1, 2013

EYEWITNESS PIC: Unbelievable photo from the El Reno, OK tornado, Fri night after it crossed I-40 - @georgekourounis twitter.com/NewsBreaker/st…

— NewsBreaker (@NewsBreaker) June 1, 2013
03:47 GMT: About 80,000 people are now without electricity in Oklahoma, with 65,000 of them in the Oklahoma City area, ABC News reports. Meanwhile, the National Weather Service says no fewer than five tornadoes touched down in the state. However, the number is expected to change as survey teams visit the area on Saturday.

02:23 GMT: Two more fatalities were reported in a car in Union City and another person, according to KWTV, was found dead in El Reno. This update raises the Oklahoma death toll to five. All victims so far were in cars.
A man stands on the roof of his car near s. may and sw 25 th. photo by Sarah Phipps/Oklahoman. twitter.com/NewsOKPhoto/st…

— Oklahoman Photo Dept (@NewsOKPhoto) 1 июня 2013 г.
02:20 GMT: Integris Canadian Valley Hospital in Yukon, Oklahoma has admitted 14 patients, three critical, along with the deceased mother and child, CNN reports.
Here's a car partially submerged at Council and Reno. @kfortwitter.com/AJMertz/status…

— Adam Mertz (@AJMertz) 1 июня 2013 г.
The back window of KFOR's Emily Sutton's car was obliterated, assumed to be on account of RFD (rear flank downdraft) winds resulting from the weather conditions.


Windshield busted. Combo of the tornado making a last minute turn & 100mph+ RFD winds. #UnionCityTornado @kfor twitter.com/emilyrsutton/s…

— Emily Sutton (@emilyrsutton) June 1, 2013
01:14 GMT: A tornado warning has been issued for St. Charles and St. Louis, Missouri. Residents are advised to take shelter below ground or evacuate north immediately.
01:07 GMT: As many as six overturned semi-trucks are laying on their side along the I-40 highway near Oklahoma City, reports The Oklahoman. 
Current reports indicate 40,000 people are without power, with flash flooding exceeding 5 inches (13cm) in some areas of Oklahoma City.

Major flooding in Mesta Park #okwx twitter.com/NicholasOxford…

— Nick Oxford (@NicholasOxford) 1 июня 2013 г.
00:55 GMT: One of the tornadoes traveled the same route as the devastating funnel that ravaged Moore on May 20, although forecasters stressed the winds were much weaker than the 200 mph (322kph) gusts that ravaged the area.

00:45 GMT: Another, smaller tornado has been reported in Del City, according to KFOR, where the town's city hall has opened as a public shelter.

00:40 GMT: Oklahoma Highway Patrol is now warning motorists to leave I-40 and flee the area as a storm approaches Oklahoma City.

00:38 GMT: The number of Oklahomans who have lost power as a result of the storms continues to increase, with Michael Knopasek of KWTV reporting over 31,611 are now in the dark. That number is expected to rise as "massive power flashes" have kept the area flickering.

00:28 GMT: At least 22,000 people are now without electricity in Moore and the Oklahoma City metro area as power flashes continue to jolt the area, KFOR reports.

00:23 GMT: One tornado, traveling from the southwest, has increased in speed from 25 mph to 50 mph while another storm has broken 100 mph (160kph). Siren warnings are blaring throughout Oklahoma City and Moore, just south of the city limits.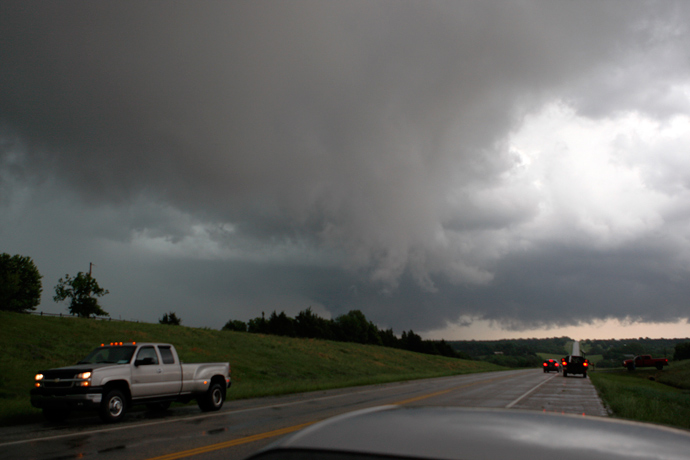 00:19 GMT: "This huge storm could produce a tornado just about anywhere," said KWTV anchor Gary England, adding that multiple tornadoes had already sprouted in the region Friday.

00:16 GMT: Flash flood warnings were issued for Canadian and Oklahoma County until 11:15 pm local time Friday. At least 12,000 people are without power in Oklahoma City, CNN has confirmed.

Authorities repeatedly warned residents to immediately drive south or take cover underground as the "destructive" tornado vortex was rapidly approaching the Oklahoma City metropolitan area, where heavy fatalities are possible.

Earlier in the day the National Weather Service advised that large hail and wind gusts of 80 miles per hour were possible. Several tornadoes could result, they warned, because of the strength of the initial storm. Storm warnings are in effect until midnight local time, with residents being warned to take cover.

Two possible tornadoes west of Oklahoma City, OK right now ... moving East @ 30mph. twitter.com/WBIRWeather/st…

— WBIR Weather (@WBIRWeather) 1 июня 2013 г.
A mother and child were killed after being thrown from their vehicle, according to local KWTV. Meanwhile Moore, Oklahoma was expecting 85 mph winds.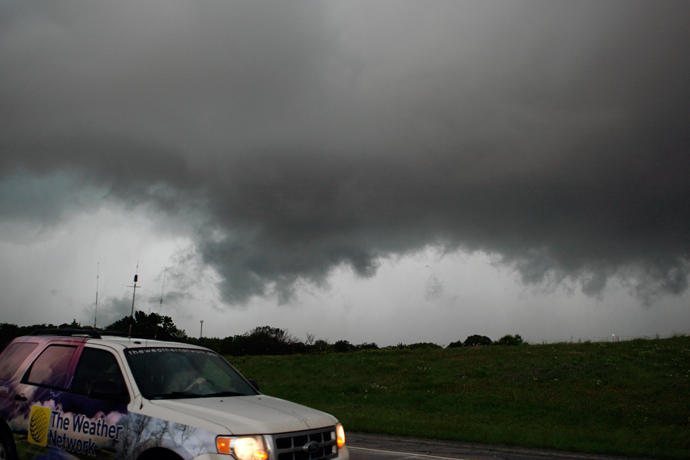 Large sections of Oklahoma City were already without power as the storm approached highway I-35, where stopped rush hour traffic resembled a "parking lot," according to a KWTV reporter. Meteorologists warned drivers to steer off the roads immediately, or abandon their vehicles if need be.

Residents told KFOR that "baseball-sized hail" was raining down on Oklahoma City and the surrounding area. The station's meteorologist referred to the storm as "violent" Friday evening as coverage continued.

Winds have been strong enough to force vehicles off the road, with The Weather Channel claiming that its Tornado Hunt truck was thrown "200 yards" by the winds. 

More than 1,000 people at Will Rogers Airport evacuated into an underground safety tunnel as a precaution.

You can share this story on social media: