Pentagon cyber chief downplays NSA email snooping; says attack is 'coming our way'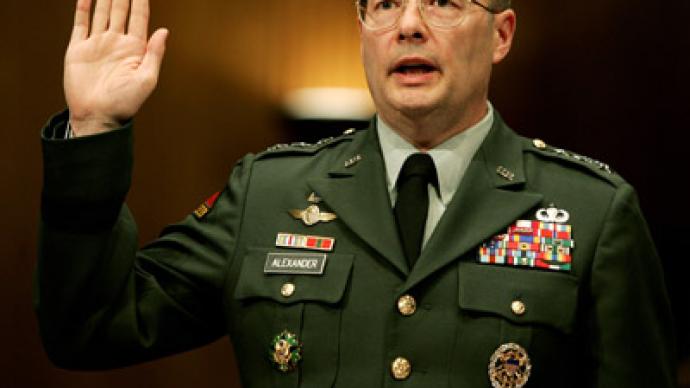 The Pentagon official at the top of the US Defense Department's cyber program says that an attack on the United States' computer systems is not just on the way but that America is now more vulnerable than ever.
National Security Agency Director Army Gen. Keith Alexander, who also heads the Pentagon's Cyber Command unit, tells reporters this week that the US is coming close to being hit with a computer attack that could devastate the country. Speaking before a crowd this week, Alexander warns, "The conflict is growing [and] the probability for crisis is mounting.""While we have the time, we should think about and enact those things that we need to ensure our security in this area. Do it now, before a crisis," insists Alexander."What I'm concerned about is the transition from disruptive to destructive attacks," he adds. "And I think that's coming. We have to be ready for that."The US Congress is currently tasking itself with finding a way to fight cyberterrorism, but the inability to fully find a way to balance security with civil liberties has raised objections across the country. Alexander dismissed these concerns during this week's address, however, insisting that the NSA does not "hold data on American citizens" and equated the US government's association with major Internet entities as one that is relatively hands-off."Like the police force, like the fire department, they don't see around buildings waiting for a fire to come on, you call them when it happens. In cyberspace, I see very much the same thing in our partnership with industry," he alleges. "We can protect civil liberties and privacy, and cybersecurity," says Alexander, who insists his agency is "not talking about giving our personal e-mails to the government."Meanwhile, only last month the NSA sent a letter to two leading congressmen refusing to reveal the number of Americans that they have spied on through provisions made in 2008 to the Foreign Intelligence Surveillance Act (FISA), a legislation that allows the government to go through correspondence that they believe is being sent overseas. In explaining themselves to the two lawmakers that asked for an answer, Senators Ron Wyden (D-OR) and Mark Udall (D-CO), the NSA said that that informing Americans about any spying they may have been subjected to would be damaging to personal privacy.RT has also reported that, under the Electronic Communications Privacy Act (ECPA) of 1986, the government is given practically an open invitation to access private information such as that contained in emails tens of thousands of times a year.Elsewhere, recent reports have alleged that the United States has all the while been behind massive computer attacks waged not at its own citizens through spy programs but instead at Iran's nuclear infrastructure. By way of both Stuxnet and Flame, a worm and malware, respectively, Obama administrations officials speaking with the New York Times have confirmed that the technology behind the cybercrimes was engineered on behalf of the American government and authorized by US President Barack Obama.Speaking of attacks aimed at America, however, Alexander explains this week, "I do think that's coming our way. You can see this statistically; the number of attacks is growing."