Reddit co-founder slams Facebook over CISPA support
Published time: 8 May, 2012 18:19
Edited time: 8 May, 2012 22:19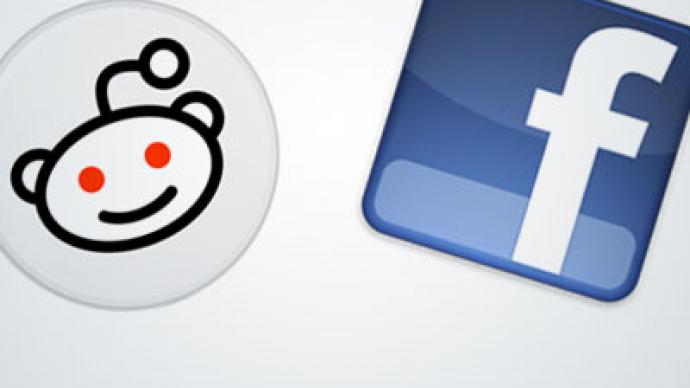 Facebook is expected to make billions when the social networking site goes public, but one of the most influential men on the Web says he won't be buying stock. The founder of Reddit has denounced Facebook over their support of CISPA.
In an interview with CNN this week, Reddit.com co-founder Alex Ohanian explains that he won't be investing in the largest technology IPO in the history of the Internet. Although Facebook founder Mark Zuckerberg expects to make billions off of the site's initial public offering, Ohanian says that he won't be emptying out his own pockets to pad those of the young Silicon Valley star. The reason, says Ohanian, is he believes that Facebook's stance on the Cyber Intelligence Sharing and Protection Act — CISPA — is very unsettling.
"I understand the business value to what Facebook is doing," Ohanian tells the network. "We've never seen a company like this before, ever. It knows things about our private lives that no one else does. And one of the big issues that a lot of us in the tech community have with Facebook of late has been their support of bills like CISPA that make it really easy for a business like Facebook to hand over very private data about us without any due process. So that's why I'm gonna be holding off."
Facebook advertises that they have 901 million monthly active users, which includes around half a billion people who use mobile phones to access the profiles of themselves and others. The site exists in more than 70 languages and users upload around 300 million photos each day to the company's servers. To say that Facebook has their finger on a lot of data would be an understatement, but perhaps even more alarming is that the website says they have no problem with sharing any of that information with the government.
The social media sites insists that they mean well by siding with CISPA, but Ohanian and others aren't convinced that that's enough of a reason to sign-on as a supporter. "[W]e recognize that a number of privacy and civil liberties groups have raised concerns about the bill – in particular about provisions that enable private companies to voluntarily share cyber threat data with the government," Joel Kaplan, Facebook's vice president of US public policy, explained in a blog post earlier this month. "The concern is that companies will share sensitive personal information with the government in the name of protecting cybersecurity. Facebook has no intention of doing this and it is unrelated to the things we liked about HR 3523 in the first place — the additional information it would provide us about specific cyber threats to our systems and users."
No matter which way they paint it, however, Facebook has indeed gone on the record to support CISPA, essentially agreeing to supply Uncle Sam with the personal data and correspondence of any user in the name of cybersecurity. Opponents of the bill argue though that even if well intentioned, CISPA would install the federal government with privacy-invading powers that would be worse than anything that America can already legally do.
"CISPA is essentially an Internet monitoring bill that permits both the federal government and private companies to view your private online communications with no judicial oversight, provided, of course, that they do so in the name of cyber security," Congressman Ron Paul (R-Texas) explained in an audio address made last month, adding that the legislation "represents an alarming form of corporatism as it further intertwines governments with companies like Google and Facebook."
Delivering a speech in Amsterdam last month, Ohanian voiced his opposition to CISPA without addressing Facebook's support. "We value privacy and a right to free speech in the real world, this is fundamental to our democracy. For some reason the rules change online, when it's digital, but free speech and privacy should be respected online as well," he said.
Speaking to Venture Beat earlier this month, Reddit General Manager Erik Martin added that although his company usually avoids taking political sides, the realities of what could happen if CISPA passes is something that could shape the future of not just Reddit, but how the Internet operates entirely.
"We're not interested in activism, but there are times when we can help make sure the community's voice is heard. And Reddit is built upon having a free and open internet … we're open source, don't require user info, user curated etc. So, anything that might threaten a free and open internet impacts both the community and the company," said Martin.
On Friday, Congressman Ron Paul reiterated his opposition to CISPA while speaking at the University of California in San Diego. "Without the First Amendment it is very difficult for us to get our message out," said Paul, "but I want to make sure that the first amendment is protected on the Internet as well."