Man who dreamed of all-white town becomes victim of white supremacists
Published time: 21 Nov, 2013 20:15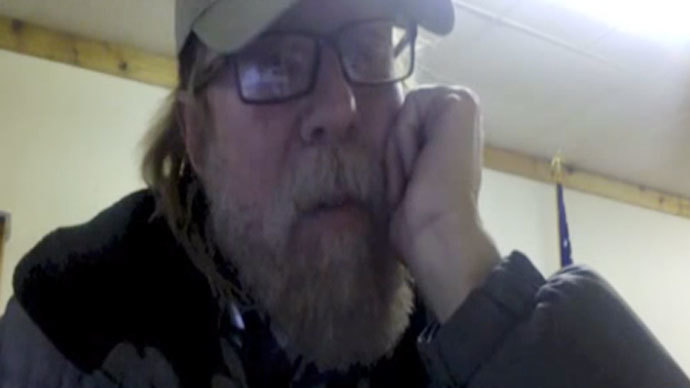 Craig Cobb's goal of de-integrating Leith, North Dakota and turning it into an all-white enclave has hit a substantial roadblock: He's been arrested and charged with terrorizing residents.
The current situation began somewhat ironically, when Cobb had what's been described as "a falling out" with a fellow white supremacist after it was revealed on TV that his lineage was 14 percent Sub-Saharan African. Soon afterwards, the ex-follower covered Cobb's house with racially insensitive graffiti.
According to the Los Angeles Times, Grant County Assistant State's Attorney Todd Schwarz said that the man "painted on the house, 'BACK IN BLACK,' and he's not an AC/DC fan."
In response, Cobb and a still-dedicated follower named Kynan Dutton began patrolling the streets of Leith armed with a rifle and a shotgun. They allegedly followed a local woman and intimidated her with the guns. Another resident, Gregory Bruce, said the two men approached City Councilman Lee Cook at his home with the guns in hand and stood at the edge of the property.
Cook told the Bismarck Tribune that Dutton had his finger on the rifle's trigger, but that neither of the weapons were aimed at anyone. The police were called and both Cobb and Dutton were arrested. The Times reports they've been charged with seven felony accounts of "terrorizing" the town, and have been held without bond due to a judge's order that agreed the two are flight risks.
Five of the seven charges are gun-related and carry a minimum of two years in prison, Schwarz told the Times.
Before he was arrested, Cobb texted a reporter at the Bismarck Tribune in an attempt to explain his actions.
"Because of the many violences and harassments against we and the children, we have commenced armed patrols of Leith," the text read. Cobb also said he plans to name some of his property "Adolph Hitler Pvt. Park of Leith."
Schwarz dismissed the claim of harassment as "manufactured," saying Cobb knew the graffiti was an act done by his own follower.
"I've got a small community that is absolutely justified in being in fear of this man and his escalation," Schwarz told the Times. "But 'BACK IN BLACK' — there's got to be some irony in it."
Cobb has become a lightning rod for criticism ever since it was unveiled that he's been purchasing property in Leith in an attempt to convince other white supremacists to move to the town and help him take over the government. The city council has tried to slow him down by passing stricter rules related to camping out on empty lots. It also imposed a building moratorium that prevents him from living on property without functioning sewer and water systems.
Earlier this month, Cobb appeared on NBC Universal's "The Trisha Goddard" show, where he submitted to a DNA test that proved he was of Sub-Saharan African descent. He rejected the results as "statistical noise."
Cobb holds dual citizenship in the U.S. and Canada, though he is wanted north of the border on charges of willfully promoting hatred through a racist website he ran out of Vancouver. He cannot be extradited to Canada since there is no equivalent crime in the U.S.