Targeting courthouses for immigration arrests creating 'culture of fear,' says ACLU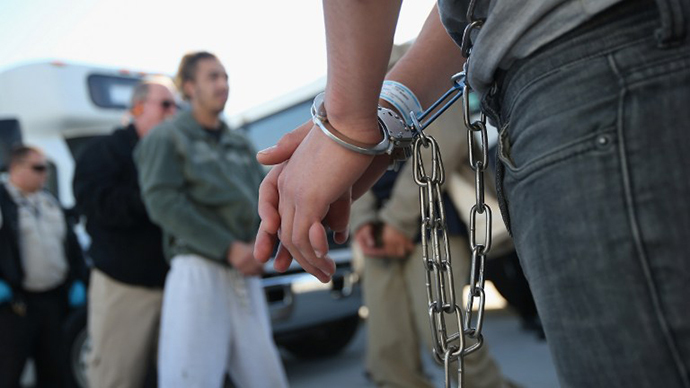 US Immigration and Customs Enforcement officers arrest people when they appear in court to pay traffic tickets, get married, or make themselves known in other ways, violating Department of Homeland Security policy, according to civil liberties advocates.
The American Civil Liberties Union (ACLU) wrote a letter to the Homeland Security Department pressing officials to end the policy of "abusive arrests" employed by Immigration and Customs Enforcement (ICE) agents. The document asserts that such apprehensions are in direct violation of ICE's alleged policy forbidding officers from making arrests at "sensitive locations," a list including hospitals, schools, and places of worship. 
The ACLU asked ICE, the investigative unit in the Department of Homeland Security, to add courthouses to the list of sensitive locations, claiming sudden ICE raids are "causing significant harm in the Kern County," California community, as quoted by Courthouse News. 
"The arrests have prevented residents from complying with their obligations to pay citations and appear for court hearings, and from obtaining restraining orders, marriage licenses and other essential court services," wrote ACLU attorney Michael Kaufman. "Moreover, ICE's actions have created a culture of fear, deterring residents from exercising their constitutional right and civic duty to appear for court hearings or seek court services." 
In one such incident in September 2012, ICE agents arrested Indian citizen Gurvinder Singh when he appeared at the Kern County courthouse for his wedding. Singh had been living in the states for a decade at the time, according to the ACLU, and had not missed a single court hearing for his immigration status, which was processing at the time of his arrest. 
Singh was soon released yet because he admitted entering the country over the Mexican border, ICE agents placed him under electronic surveillance and forced Singh to check in every 15 days. In an unrelated case, another Indian national was taken into custody while attempting to register for a class. 
"ICE's tactics are reprehensible," Kaufman continued. "ICE is punishing people for attempting to comply with the law or access important court services, like marriage licenses and restraining orders. By scaring people away from courthouses, ICE is undermining the public health and safety of the entire Kern County community."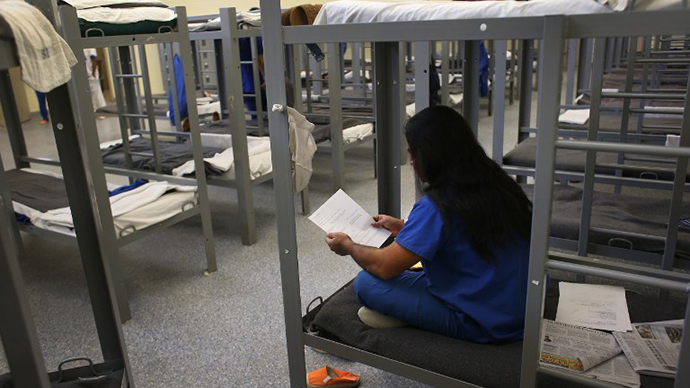 Yet the practice seems to be spreading, with similar incidents being reported in Santa Clara, a four hour drive to the north of Kern County. 
"When ICE officers roam the courthouse hallways, many individuals are placed in the untenable position of choosing between protecting themselves or paying a traffic ticket," said Gabriela Rivera, staff attorney at the ACLU of San Diego and Imperial Counties. "This is exactly the kind of perverse enforcement approach that causes immigrant communities to fear cooperation with law enforcement officials. It is misguided to discourage this population from meeting its civic responsibilities." 
This comes after the ACLU praised a federal court decision that will prevent the use of administrative warrants to make immigration-related arrests. The Fourth Circuit of appeals ruled earlier this year to stop local police from detaining, stopping, searching, or arresting anyone based on an ICE civil warrant. 
Before the ruling local law enforcement agencies would run an individual's name through a database. If ICE had previously issued a civil notice on that person, the municipal police would then hold that individual for up to 48 hours, giving ICE agents time to take them into federal custody. Local law enforcement will still be permitted to hold suspected offenders with a criminal ICE notice against them. 
The ACLU outlined its general issue with ICE in a blog post on the group's website last year. The Department of Homeland Security, the ACLU noted, is not above the law when agents selectively target Latino communities. 
"The Constitution ensures all people equal protection and fair treatment under the law regardless of their skin color or accent; looking or sounding 'foreign' is not enough to justify seizing a person for immigration investigation," the agency noted. "Moreover, the Fourth Amendment's prohibition on unreasonable searches and seizures apply to everyone in this country, regardless of their immigration status."
You can share this story on social media: