Connecticut passes first GMO food labeling law in US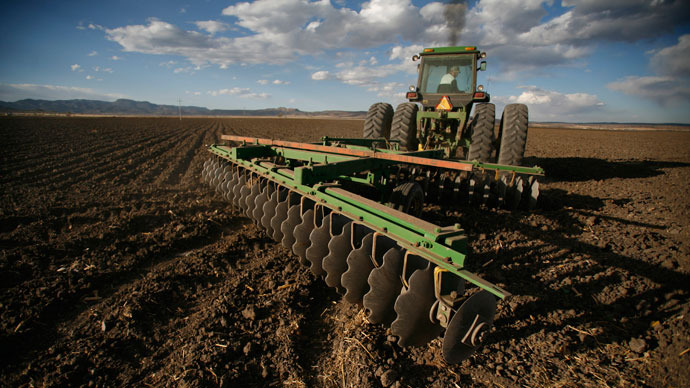 The state of Connecticut has become the first to successfully enact a law requiring food containing genetically modified ingredients to be labeled as such, though it comes with the unusual requirement that four other states must pass similar legislation.
Though supporters of GMO product labeling will likely laud the state legislature's approval of the new bill, it represents a significant weakening of the initial proposal with the introduction of a bipartisan 'compromise' requiring that four additional states, one of which must border Connecticut, pass labeling laws as well. An additional requirement is that the aggregate population of any combination of such states exceed 20 million people.

Perhaps not surprisingly then, as the New York Daily News reported just yesterday, a last-minute push by biotech lobbyists was attributed to the defeat of a GMO labeling law in New York.

Undeterred for the moment, New York assemblywoman Linda Rosenthal (D-Manhattan), the bill's lead sponsor, has vowed to try to find another way to bring the measure to a vote before the state's June 20 recess.

Rosenthal's chief of staff told the Daily News that a lobbyist for the Council for Biotechnology Information, an organization that represents biotech giants such as Monsanto and DuPont, had attended the New York state committee vote.

"We heard there was heavy industry lobbying at the last minute," Rebecca Spector, West Coast director for the Center of Food Safety, told the news website TakePart.

"When they counted, they had the votes in the committee, and at the last minute, two committee members switched their votes. We're still waiting to find out which two," she added.

As RT previously reported, even within states like Vermont, which is long known for its independent-minded state legislature, fear of pending lawsuits by companies like Monsanto generated a lack of support for GMO labeling laws.

Meanwhile, in late April, a new federal bill that would mandate the labeling of GMOs, the Genetically Engineered Food Right-to-Know Act, was introduced by Sen. Barbara Boxer (D-CA) and Rep. Peter DeFazio (D-OR). The govtrack.us website currently gives that bill a 3 per cent chance of surviving a committee before moving on to floor debate and a potential vote.

Though few expect GMO labeling to pass at the federal level, advocates for such measures point to the fact that the mere introduction represents progress for laws that have made little to no progress in the decades since first being introduced.

"The fact that this bill made it to an agenda demonstrates the distinct desire on the part of the New York State Assembly to tackle tough issues, and is also illustrative of tremendous impact that the advocates nationwide have had on this debate," Rosenthal said of the recently defeated New York labeling law.

But even in Connecticut, which managed to pass at least a diluted version of its original GMO labeling bill, Governor Dannel P. Malloy left no doubt as to why the law was passed in its current form.

"This bill strikes an important balance by ensuring the consumers' right to know what is in their food while shielding our small businesses from liability that could leave them at a competitive disadvantage," he said in a statement.

Though over 90 per cent of Americans are thought to support the labeling of genetically engineered foods, the Food and Drug Administration's 1992 policy statement does not find GMO foods to be "materially" different from any other as genetic differences cannot be recognized by taste, smell or other senses.

Since that FDA decision, the food industry has spent considerable resources to prevent GMO ingredient labeling. In 2012, a coalition of biotech corporations spent some $50 million on an ad blitz against a GMO labeling law which was ultimately defeated in California.

You can share this story on social media: