On the eve of March against Monsanto Senate shoots down GMO labeling bill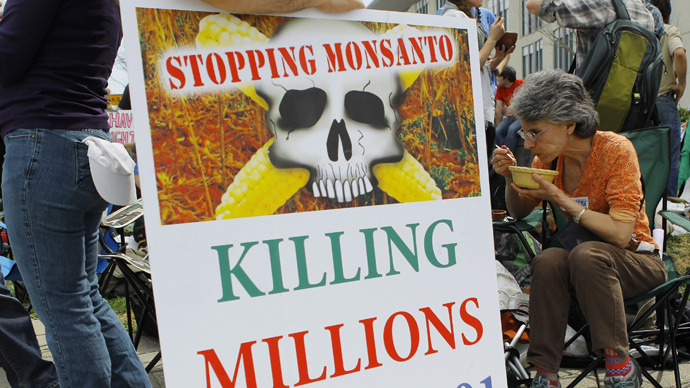 As 200,000 people prepare to march against Monsanto, the Senate has overwhelmingly rejected a bill that would allow states to decide if genetically modified food products should be labeled.
The amendment shot down by the Senate would have allowed states to make their own decisions on whether or not GMO foods should be labeled – without mandating any action. Supporters originally believed that this measure was non-controversial, and simply gave states an option. But the Senate voted 71 to 27 against it on Thursday, days before Saturday's March Against Monsanto.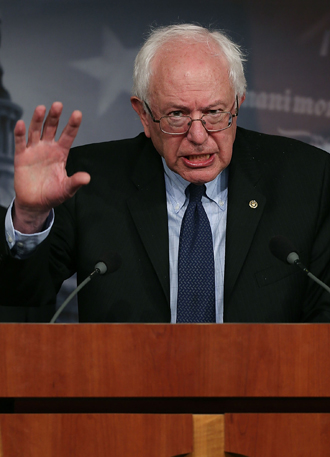 "The concept we're talking about today is a fairly commonsense and non-radical idea," Sen. Bernie Sanders (I-Vt.), the bill's sponsor, told the Huffington Post before the vote. "All over the world, in the European Union, in many other countries around the world, dozens and dozens of countries, people are able to look at the food that they are buying and determine through labeling whether or not that product contains genetically modified organisms."
Sanders also explained that the Food and Drug Administration requires more than 3,000 ingredients to be labeled on food products, but that GMOs are not on this list.
But opponents of the measure argued that GMOs should not be labeled, since the FDA has not made scientific conclusions that would require it. Sen. Debbie Stabenow (D-Mich.), chair of the Agriculture Committee, said the amendment that was shot down was not relevant to the farm bill. She also emphasized the importance of Monsanto in providing foods at lower prices that help feed people around the world – an argument often made by supporters of the biotech giant.
"I believe we must rely on the FDA's science-based examination before we make conclusions about food ingredients derived from genetically modified foods," she said. "They currently do not require special labeling because they've determined that food content of these ingredients does not materially differ from their conventional counterparts."
On Thursday, Senate Republicans also objected to an attempt to repeal a provision that critics call the "Monsanto Protection Act", which allows Monsanto and other biotech giants that use GMOs to plant and sell their products, even if legal action is taken against them. The provision protects Monsanto from financial damages and has generated petitions and a nationwide outcry from critics who claim the legislation allows the company to bypass the court system and dominate the seed industry.
"The provision [strips] federal courts of the authority to halt the sale and planting of an illegal, potentially hazardous GE crop while the US Department of Agriculture (USDA) assesses those potential hazards," dozens of food businesses and retailers wrote Congress before the "Monsanto Protection Act" was passed in March.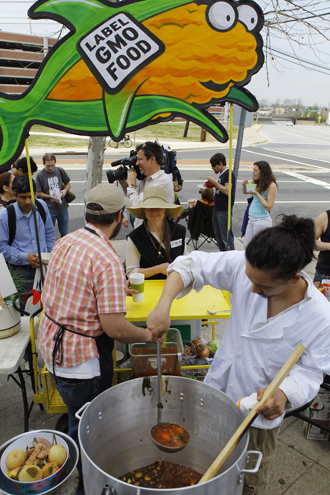 The Senate vote against the GMO labeling provision comes as the Vermont House and Connecticut Senate this month voted to force food companies to declare GMO ingredients on their packages – moves that indicate a growing support for GMO labeling while Congress continues to side with Monsanto.
The vote also occurred just two days before 200,000 people in 40 countries and 48 US states are expected to take to the streets to rally against the biotech giant. The global "March Against Monsanto" will occur in cities including New York, Chicago, Montreal, Berlin, Paris, Brussels, Moscow, and Melbourne.
Protesters will demand a ban on GMOs, which many believe have detrimental health effects. They will also rally against Monsanto's patenting rights, which allow the corporation to monopolize the seed industry.
"For too long, Monsanto has been the benefactor of corporate subsidies and political favoritism," states the Facebook page of the March Against Monsanto, Washington, D.C. "Organic and small farmers suffer losses while Monsanto continues to forge its monopoly over the world's food supply, including exclusive patenting rights over seeds and genetic makeup."
The global march initially began as a grassroots event, but has quickly garnered support from tens of thousands of people on Facebook pages and Google Documents. Kirsten Neus, a Washington, D.C. resident who starkly opposes Monsanto's actions, told RT that she is trying to convince all of her friends to attend the protests and learn about the evils of the corporate biotech giant.
"I'm going because I want Monsanto's leaders to know that we know who they are and what they're doing, and we won't sit back and watch as they collude with our elected officials to destroy our planet and our future in the pursuit of profit," said Neus, in anticipation of Saturday's march.
With Congress against him and tens of thousands of supporters rallying in support of his goals, Sen. Sanders will continue to push the GMO labeling provision in the Senate.
"The people of Vermont and the people of America have a right to know what's in the food they eat," Sanders told AP.
The House Agriculture Committee approved a version of the farm bill last week, which is expected to be voted upon this summer.
You can share this story on social media: