Heated dispute: ConEd lockout continues as the Big Apple bakes
Published time: 8 Jul, 2012 23:54
Edited time: 9 Jul, 2012 04:49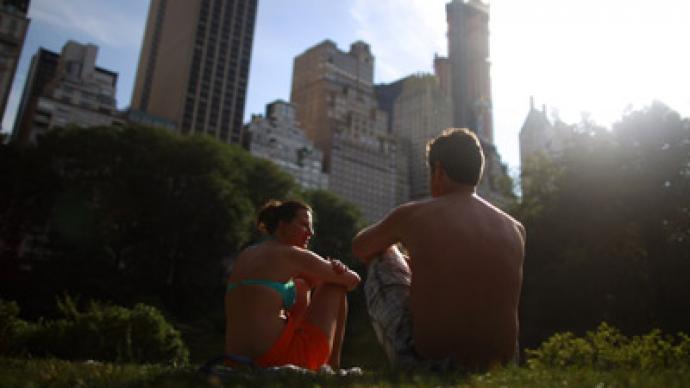 Gridlock has dogged talks between New York City electricity provider Consolidated Edison and its 8,500 locked out workers. It puts New Yorkers at risk of power outages as intense heat fries the Big Apple.
­Consolidated Edison (known locally as Con Ed) bosses failed to come to a final agreement with workers at a mediation session held on Saturday. Representatives of the company met with the Utility Workers Union of America (UWUA) Local 1-2 at a hotel in Queens, and were only able to agree to hold another session Tuesday to seek a solution to the ongoing labor dispute.

"We've been open every day," union spokesman John Melia was quoted by the Daily Voice as saying. "Nine million people are being held hostage by their union-busting tactics. They could have employed a few chimpanzees to do what they have done. They just sit there and nod their head."

Con Ed locked out around 8,500 workers after negotiations over contract renewal failed on July 1. The electricity giant wants to scrap pension plans and replace them with less costly 401(k)-type savings plans. Benefits and wages are also at stake in the dispute.

A series of talks then took place last week, with Con Ed saying it would rehire the workers as long as they guaranteed they would not strike. With such important issues at stake, however, the UWUA refused to provide such a promise.

The workers have been temporarily replaced by some 5,000 managers and retirees.

However, with a heat wave baking the New York area, the company's ability to deal with its regular projects and emergency situations appears to have been undermined.

The company reduced voltage by over 5 per cent in a number of neighborhoods in Brooklyn and the Bronx. The reasons for the reductions, termed a "brownout," were to protect the overall system and maintain service as crews fixed the power lines feeding the neighborhoods.

However, the UWUA says the reductions were a sign that Con Ed was facing increasing difficulty in dealing with the heat wave without its regular workers.

"If something goes wrong, Con Edison will not be able to respond in a timely manner, endangering all New Yorkers," Melia stated, as quoted by Reuters.

Another issue is the capability of the temporary workers hired to replace the locked out employees. At least four such workers have been injured, with two suffering burns to their faces and hands. One worker, in Yonkers, was arrested for reporting a phony gas leak. Union workers have been pointing to the sheer lack of skills and proper education amongst the replacement workers.

As the conflict drags into the second week, New Yorkers are left guessing whether to expect blackouts, or whether the company could continue serving its clients under the strain of the heat.

It remains unclear why the company, which in the words of company president Kevin Burke boasted an "impressive" $1.1 billion profit last year, decided to undergo the cuts to employee benefits that sparked the dispute. In any case, Con Ed increased executive pay by 82 per cent in 2010 – to over $17 million for its top five executives.