Pentagon admits: Navy's newest warship can't survive combat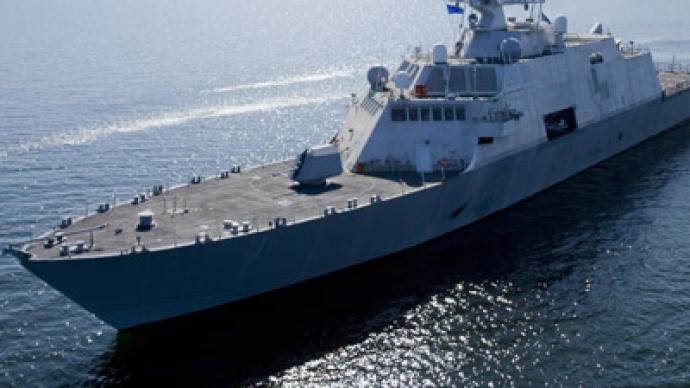 The Navy is sending one if its newest combat ships overseas, even though the Pentagon knows the ship's guns don't properly function and is unsure whether the ship can even survive combat.
The USS Freedom, one of the newest class of Littoral Combat Ships, has long been unable to pass inspections. The ship, which was commissioned in 2008, was designed to fight massive enemy fleets and is said to be one of the fastest ships in the Navy. The USS Freedom cost the US government $670.4 million – but the expensive vessel has failed many of its inspections.In May 2012, the Navy inspection report disclosed that the ship had failed 14 of 28 inspection tests, including an assessment of its fire-fighting systems, communications, electrical systems and forward propulsion. But even eight months later, the ship continues to have its problems.J. Michael Gilmore, the Defense Department's director of operational test and evaluation, revealed his concerns in an annual study released by Congress on Tuesday. Gilmore believes the Littoral Combat Ship (LCS) is still "not expected to be survivable" in combat. He first expressed his concerns in 2011 when he predicted the ship would not survive "in a hostile combat environment."Additionally, the ship's 30mm and 57mm onboard guns "exhibit reliability problems" and may be dysfunctional while the ship is traveling at high speeds, making self-defense a problem, Gilmore reports.Regardless of the failed inspection tests and the director's concerns, the Navy has sent the USS Freedom overseas for the next eight months. The ship is currently on its way to Singapore, where it will remain stationed as part of the Obama administration's attempt to provide greater focus on Asia. The ship's crew will also take the time to get to know and understand how the ship works – as well as discover any other problems it may have."We're going to learn a lot of lessons from this deployment," Vice Admiral Tom Copeman told Defense & Security Intelligence & Analysis. "Do we have the best strategies for maintaining the ship? Is our strategy for how we're going to do the crew swap correct? Logistics, maintenance, spare parts: do we have that right?"But in the case that the ship were to get attacked, it faces a very real chance of being unable to defend itself.Even though the LCS ship has been proven a flawed design, the US still plans to purchase more of them. The Navy wants to buy 55 of the new combat ships, including an alternate design of the USS Independence, which costs about $808.8 million per piece.A Navy spokesperson told Wired that the Pentagon is aware of the ship's problems and is in the process of addressing them. Even so, sending the USS Freedom to foreign waters for learning purposes is a risky choice on part of the Navy. 
You can share this story on social media: