High flyer? Colorado airport sets up marijuana 'amnesty boxes'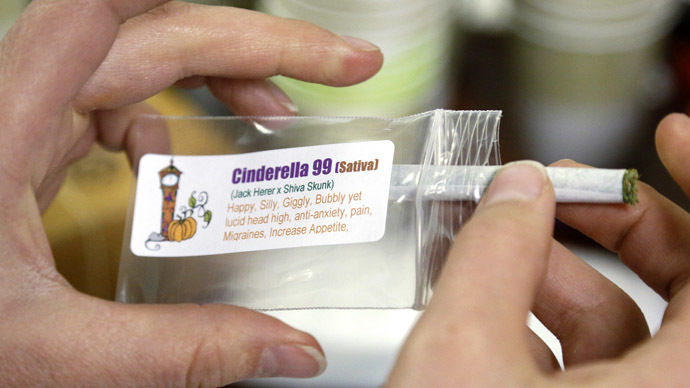 While getting high on pot in Colorado is now legal, taking to the friendly skies with a bit of kind is still a criminal offense. The solution? Colorado Springs Airport has introduced "amnesty boxes" for passengers to trash their stash before taking off.
The boxes were installed at the airport Wednesday, and are similar to those installed for people to surrender now forbidden items like lighters and pocket knives before reaching Transportation Security Administration (TSA) checkpoints. All the marijuana placed in the boxes will be destroyed.
They are intended to help those who unwittingly brought marijuana with them to the airport. The ban on marijuana at Colorado airport covers recreational and medical marijuana alike, Colorado Spring's KKTV reports.
Although Colorado legalized recreational marijuana use on January 1, passengers are under federal law once the doors on a civil aircraft have been shut.
Colorado Springs police chief Pete Carey said last week that all checked bags are screened by the TSA, and if pot is found in their belongings, they will call Colorado Springs police, the Colorado Springs Gazette reports him as saying.
If a passenger is caught trying to bring pot onto a plane, whether it be on their person, in their carryon luggage or in their checked baggage, they could face up to $2,500 in fines and potentially time behind bars. It is, however, legal to leave marijuana in a parked vehicle at the airport, at least under state law.
Denver International Airport, meanwhile, which has a zero tolerance policy toward marijuana, has opted not to set up amnesty boxes.
Greg Phillips, aviation director of the Eagle County Airport near Vail, said told NBC news the facility is also considering amnesty boxes.
"What we don't want is them throwing it in the trash can," Phillips said. "Then you have other people digging through the garbage."
You can share this story on social media: