CNN anchor trashes network's Casey Anthony coverage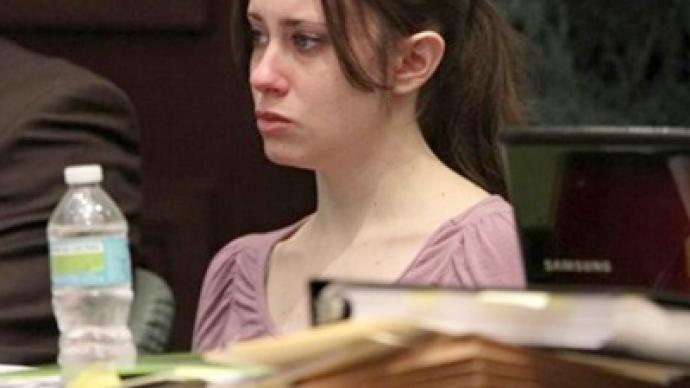 Forgetting that his microphone was still on, CNN's Vinnie Politan, commented on the boobs of Casey Anthony as he expressed frustration with the ongoing CNN coverage of the trial many consider not to be newsworthy.
Anthony is on trial in Florida accused of murdering her two-year-old daughter and dumping the body and then proceeding to live her life and party as if nothing had happened. Many media analysts have argue the story is hyper local and should not be occupying national network air time, but because the woman is attractive and Caucasian, CNN's cameras are drawn to the story. It appears CNN's Vinnie Politan agrees.While covering the story for yet another long day, Politan said: "The only thing you are going to see are her boobs sticking out," remarking on the fact that the story was unchanged, not news and that her choice of clothing has becoming increasingly revealing. The CNN anchor made the comment unaware his microphone was still on air. Nevertheless, it is telling of the coverage. Even CNN's own does not feel dedicating hours on end to local court room on goings merit national attention. Politan, and others, have actively commented on the case and questioned why it is receiving so much attention. Politan has even specifically noted the tight clothing choices Anthony makes before arriving in the court room before the jury. "I was wondering why she is wearing a clingy, low-cut shirt that is really very form-fitting to her entire body," he said. "And I was just wondering why on earth they are dressing like that."The CNN anchor has covered court cases before, most of high profile individuals or cases meriting national coverage – such as the murder trial of Michael C. Skakel, a Kennedy family member, and the case of Sean 'P Diddy' Combs.Many continue to wonder why, other than the attractiveness of Anthony, her case I receiving so much ongoing media attention.
You can share this story on social media: