Insane Clown Posse files lawsuit against FBI
Published time: 26 Sep, 2012 21:14
Edited time: 27 Sep, 2012 01:14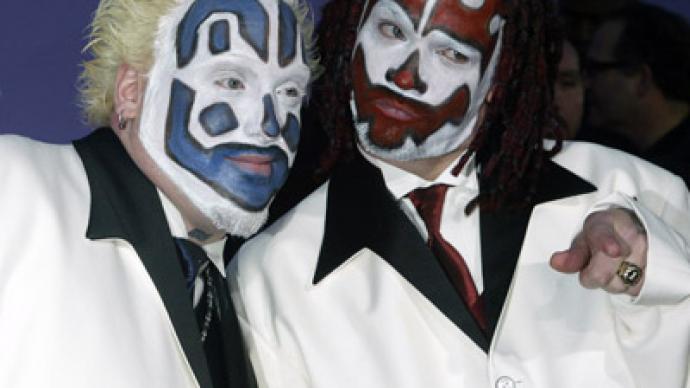 Insane Clown Posse, a Detroit-based rap act that mixes circus-infused rhythms with rhymes of lore and gore, has sued the FBI for ignoring a Freedom of Information Act request for evidence supporting the agency's grouping of ICP fans as gang members.
A press release posted by the group on their official website this week acknowledges that an attorney for ICP filed a lawsuit against the FBI on Tuesday, September 25.
Lawyers for the group submitted a FOIA request in August to see copies of any and all documents that back up the Federal Bureau of Investigation's inclusion of ICP fans — self-described "Juggalos" — on the FBI's 2011 National Gang Threat Assessment's report (.pdf). For failing to respond within the federally required timeframe, lawyers for ICP and their label, Psychopathic Records, intend on taking them to court.
The press release posted on InsaneClownPossee.com says that plaintiffs "filed suit against the FBI in the US District Court for the Eastern District of Michigan, alleging the FBI's violation of the Freedom of Information Act ("FOIA") for its failure to produce any documentary evidence in support of the FBI's classification of the groups' fan base, the Juggalos, as a gang" in last year's report.
Since their inception in the 1990s, ICP and — to a greater degree — their fans, have come under consistent scrutiny from law enforcement agencies who insist that identification as a Juggalo constitutes gang affiliation. According the 2011 assessment, the states of Arizona, California, Pennsylvania and Utah had already recognized Juggalos officially as a gang, but last year marked the first time that they were included in the National Gang Intelligence Center's annual report as such.
Authorities have cited violent behavior typical with ICP's lyrics and shared tattoos and appearances popular among admirers as indicators proving Juggalos partake in gang activity. Both the group and their fans have contested these allegations on numerous accounts, but a few high-profile crimes in recent years have only hindered their case.
Detectives in Florida referred to Juggalos as a gang as early as 2008, when a 15-year-old from Lee County was charged with threatening to kill or injure others on a MySpace profile registered under his name. The teenager, Devin Goldie, identified as a Juggalo, which Lee County Sheriff's Office spokesperson told reporters was a gang in the eyes of the FBI.
In 2010, Arizona Department of Public Safety Detective Michelle Vasey told ABC's Nightline, "We've got multiple individuals committing gang-related crimes, gang-motivated crimes, and they're using the name Juggalo."
"I don't want people to go out there and look at every Juggalo and say, 'Oh, he's a gang member, he's got a machete and he's going to slice and dice everybody,'" Vasey said. "But people need to be aware that there are huge issues that have evolved in just the last three years both in the eastern and western United States where we've got multiple individuals committing gang-related crimes" under an affiliation associated with ICP fans.
During the same report, ICP rapper Violent J told the program, "Out of millions and millions that have bought our albums – some of them have probably committed horrendous crimes."
"We're not encouraging anybody," Violent J added. "We're sitting here telling the world we have face paint on. If any of our fans kill anybody, please don't buy any more of our f--king records. Get out of our lives. You're a sicko."
The group once more distanced themselves from allegations of gang involvement in the press release put out this week. Although the group acknowledges that symbolism associated with their recordings have being labeled negatively by authorities, they say the FBI is in the wrong for thinking that constitutes affiliation as gang members.
"The idea of calling the Juggalos and Juggalettes a 'gang' is straight up bullshit. We are not a gang! We are a family! We come together for our luv of the Insane Clown Posse, Psychopathic Records, and our Juggalo pride. Can we take a fuckin' second to note that Jimmy Buffet's Parrot Heads, Lady Gaga's Little Monsters, Justin Bieber's Beliebers, the Grateful Dead's DeadHeads and many more haven't been labeled as a gang?" the group writes.
"Really, this is the first time in the history of rock-n-roll that any music fans have been labeled as a 'gang' and that's probably because it makes no damn sense! But no matter how fuckin' cracked out it is there have still been a lot of Ninjas who have been gettin' shit for their Insane Clown Posse apparel, Hatchetman tattoos, and for showing support to The Hachet. That's what happens when music fans are lumped in with the Aryan Brotherhood, Bloods, Crips, and the Latin Kings. Juggalos are fans of music – not hardened, organized gang members! And that is why the Insane Clown Posse, Psychopathic Records, and their legal team are fighting for YOU!"
The hatchet has indeed been a central icon to ICP's lyrical lore, and the hatchetman — a darkened jester figure that brandishes an axe — has become an image more synonymous with the group in some circles than their music itself.
Two Utah men were arrested in 2008 after attacking a teenager with a medieval battle ax. Authorities identified the suspects of Juggalos in their investigation and say that they apprehended the criminals after stopping a car with an ICP-related window sticker.
When ICP and Juggalos were still central figures in the Utah news months later, fans of the group were still rampantly dismissing allegations made by the police and media that they were involved in gang activity.
"[Juggalos] don't care what I've done in my past. I'm just part of them. Nobody looks down on me. Nobody thinks I'm different. If you're here, you're a part of a family," one fan who gave his name as Udy told the Salt Lake Tribune in 2009. "We're not Bloods. We're not Crips. We're just us."
Despite this claim, though, the FBI groups Juggalos along with some of America's most notorious organized crime outfits, grouping them along with the Almighty Latin King Nation as a "hybrid gang" in last year's assessment.
"Because of their multiple affiliations, ethnicities, migratory nature, and nebulous structure, hybrid gangs are difficult to track, identify, and target as they are transient and continuously evolving. Furthermore, these multi-ethnic, mixed-gender gangs pose a unique challenge to law enforcement because they are adopting national symbols and gang members often crossover from gang to gang," the FBI wrote.
Elsewhere in the assessment, the FBI calls Juggalos "a loosely-organized hybrid gang" that commits "sporadic, disorganized, individualistic" crimes, often involving "simple assault, personal drug use and possession, petty theft, and vandalism."
When attorneys for ICP asked the FBI to provide facts to back up these claims with last month's FOIA request, they failed to do as much.
"The FBI either does not have much information backing up their labeling of Juggalos as a national street gang, or if they do, it is so flimsy they are certainly hesitant to share it — Because music fans are, simply, not the same thing as a gang," Farris F. Haddad, a "self-proclaimed Juggalo Lawyer," explains on the ICP website.
ICP is asking fans to fill out a legal action questionnaire on a website, JuggalosFightBack, "If you or someone you know have suffered any negative consequence with a governmental representative, including law enforcement, border patrol, airline security, or other local, state or federal governmental agency or employee as a result of your status as a Juggalo."