Clinton foundation spent more than $50 mln in travel costs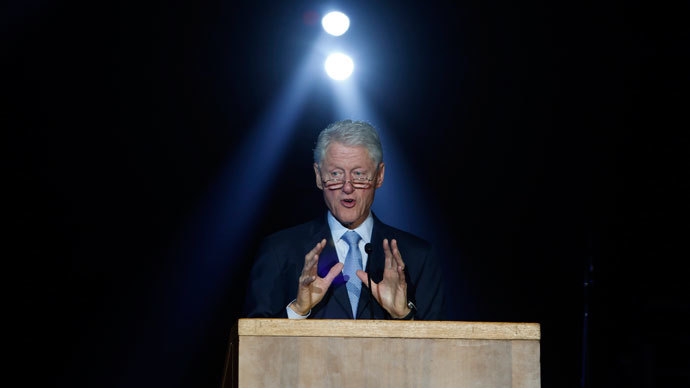 Former US President Bill Clinton's charitable foundation spent more than $50 million on travel expenses over the past decade - $12.1 million of which was spent in just one year alone.
According to tax filings obtained by the New York Post, the William J. Clinton Foundation spent enough money on travel in 2011 to buy 12,000 plane tickets at the cost of $1,000 each, or 33 plane tickets each day. During that year alone, the foundation spent $4.2 million on travel, the Clinton Global Health Initiative spent $730,000, and the Clinton Health Action Initiative spent $7.2 million in travel costs. 
Trips taken by the former president himself accounted for 13 percent of the 2010 travel budget and 10 percent of the 2011 travel budget, the Clinton Foundation told the Post. That means Mr. Clinton spent more than $1 million on his own travel costs in 2011.
Overall, 60 percent of the travel costs funded the Health Access Initiative. Only five percent was used for the Global Health Initiative, which flies students to attend the Clinton Global Initiative University. The Clinton Foundation was also heavily scrutinized for paying to fly actress Natalie Portman first-class to a foundation event with her dog.
It remains largely unclear how these charitable foundations racked up their bills, but after concerns were raised about last year's spending, Mr. Clinton called in a team of lawyers to analyze the finances.
The review found that even though the Clinton Foundation raised $214 million last year, it still had an $8 million deficit. Analysts attributed the deficit to the 2007-2008 recession, but significant travel costs may have unnecessarily contributed to it as well. 
The excessive spending has been a particular cause for concern for Mr. Clinton, who hopes that the Clinton Foundation – which combats AIDS, obesity and poverty, among other causes – will be around long after his death. The former president is concerned that if he stops fundraising, the charity's finances will run dry. The Clinton family is currently trying to raise a $250 million endowment, while also determining how money is being spent. 
"We're trying to institutionalize the foundation so that it will be here long after the lives of any of us," Bruce R. Lindsey, who runs the organization, told The New York Times. "That's our challenge and that is what we are trying to address."
Although assumptions made about Clinton's travel costs might not be accurate, the Post notes that the former president is known for flying in private jets rather than commercial airplanes.

Mr. Clinton occasionally uses a Boeing 727 that belongs to wealthy businessman John Catsimatitis. Clinton and his daughter, Chelsea, used the aircraft to fly to Africa this year.
"I don't think it's necessarily their go-to plane, because the 727 is a pretty big plane. It all depends where they're going and what they're doing," a spokesman for Catsimatitis told the Post. 
In an open letter posted on his foundation's web site, Mr. Clinton admitted that the charity needs "better coordination without dampening the entrepreneurial spirit that infuses all our initiatives."