Clinton and Bush next targets for Occupy protesters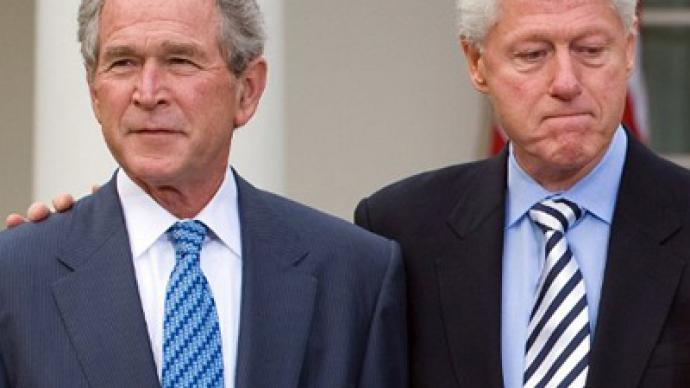 If you thought that the Occupy Wall Street protesters would stop at bankers, think again. At an event outside of Vancouver, British Columbia today, demonstrators are preparing to go after former US Presidents George W Bush and Bill Clinton.
Some, even, are hoping that the event will end with the arrest of Bush.Around 500 people are expected to attend the presidents' appearance in the small western town of Surrey, BC, but the Royal Canadian Mounted Police will be deployed outside the venue by the dozens to insure the safety of those inside the event — who paid upwards of $600 a piece to attend the lecture.The former presidents were expected to speak together for around one hour this afternoon at the Surrey Regional Economic Summit, where they will discuss the current North American financial situation.Members of a local Occupy Wall Street-offshoot are calling for an "Occupy Bush" even to occur outside of the event, in protest of not just the economic summit but of the alleged human rights abuses perpetrated by Obama's predecessor. Officials with Amnesty International have even asked Canadian authorities to arrest Bush for his "war crimes," noting that the current president has done nothing to put who they say is a criminal behind bars."We would prefer his home country try George W. Bush," Alex Neve, secretary-general of Amnesty International Canada, tells CNN. "But the Obama administration has made it clear they do not intend to do that, so we are asking Canada to. We are not naive. It's an uphill fight but we feel we have a strong case," he adds."From a Canadian perspective it shouldn't be permitted that anybody, whether a U.S. official or officials from other governments, be allowed to simply come freely to Canada to give speeches and to make quite a lot of money without being held to account," Matt Eisenbrandt tells Canada's CTV. Eisenbrandt is a legal director of the justice organization who is filing the paperwork that he hopes will put Bush behind bars.Another protester who gave her name to CTV as Kiki has been participating in the Occupy Vancouver demonstration for nearly a week and will be ready to protest Bush's appearance today."Here's a man who's not an eloquent speaker, does not seem to have the education to support what he's doing and really does seem to be completely in bed with these lackies," she says. Kiki has also made it clear that the sentiments largely argued by the Occupy Wall Street protesters in the United States have managed to efficient spread to Canada, adding, "The government should be controlling the corporations and keeping them in check, and not vice versa."Occupy protests have occurred in Vancouver, Toronto and other major Canadian cities during the last few weeks, and additionally in such far-away locales as London, England and Brisbane, Australia. In America, the demonstrations are now in their second month.Despite authorities becoming aware of this afternoon's protest, they say that they are not especially threatened by the demonstrators who plan to surround today's venue. "The Surrey RCMP respect the rights to democratic and lawful protest and is approaching this event no different than other similar events with a potential for conflict," Surrey Royal Canadian Mounted Police Cpl. Drew Grainger says in an official statement. "We are anticipating a peaceful protest, however, those who unlawfully interfere or threaten the safety of any person or property will be dealt with quickly and held accountable," he adds.
You can share this story on social media: