US Pacific commander declares climate change top security threat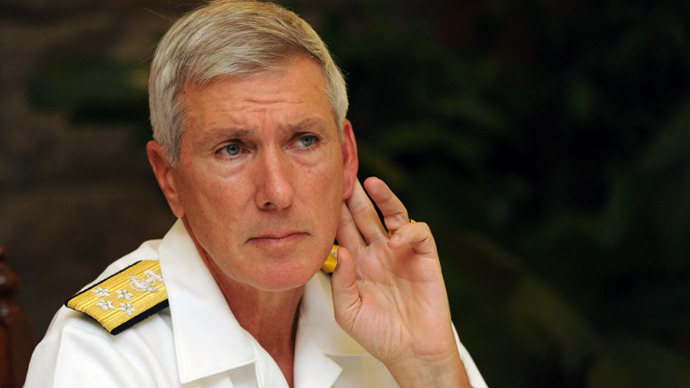 The head of the US Navy's Pacific fleet has declared climate change as the biggest long-term security threat in the region. Anticipating severe typhoons and rising sea levels that will displace nations, he emphasized a weather crisis few had foreseen.
Fallout from the shifting global temperature is "probably the most likely thing that is going to happen... that will cripple the security environment, probably more likely than the other scenarios we all often talk about," said Navy Admiral Samuel J. Locklear III in an interview with the Boston Globe.
Locklear, a four-star admiral who is in charge of monitoring hostilities between North and South Koreas as well as tensions between China and Japan, discussed his concerns at a Cambridge hotel on Friday with national security experts at Tufts and Harvard. Previously, Locklear was in charge of maritime operations in NATO's conflict with Libya in 2011.
Stationed in East Asia, Locklear currently deals with the increasing number of destructive weather crises, which he believes will eventually have a negative political impact on countries in the region.
"You have the real potential here in the not-too-distant future of nations displaced by rising sea level," Locklear said in an interview with the Boston Globe. "Certainly weather patterns are more severe than they have been in the past. We are on super typhoon 27 or 28 this year in the Western Pacific. The average is about 17."
Islands like Tarawa in Kiribati are "contemplating moving their entire population to another country because [it] is not going to exist anymore," Locklear said. Tarawa, an atoll in the central Pacific Ocean, is already struggling with overcrowding on an island whose size is only 6 sq. miles.
Aside from disappearing land, climate change has also taken a toll on fisheries, creating hostilities between neighboring countries competing for resources. In February, China was accused of threatening a Japanese warship with its navy radars over a dispute regarding fishing rights near islands that both nations claim sovereignty.
"We have an ongoing number of disputes," Locklear said. "It is not just about China and everybody else, because there are disputes between other partners down there, too. Sometimes I think the Chinese get handled a little too roughly on this."
One of Locklear's major concerns is North Korea, which has recently threatened to nuke the US and prompted the UN Security Council to vote for tighter sanctions. Tensions between North Korea and South Korea have also increased, since the North Korean government threatened to abolish its nonaggression pacts with its neighbor.
But overall, Locklear said the most destabilizing force in the region is climate change, which inflicts long-term damages that will increase tensions between East-Asian countries in the future.
"The ice is melting and sea is getting higher," Locklear said.
"We have interjected into our multilateral dialogue – even with China and India – the imperative to kind of get military capabilities aligned [for] when the effects of climate change start to impact these massive populations," he added. "If it goes bad, you could have hundreds of thousands or millions of people displaced and then security will start to crumble pretty quickly.''
Scientists predict countries hit hardest by climate change and will face rising temperatures, extreme weather, rising sea levels, increasing cyclonic activity and severe flooding. Natural resources will be affected and largely populated areas could see an increase in poverty. As land and resources begin to disappear, conflicts will arise in places like East Asia, especially where population densities are highest. 
You can share this story on social media: