Polar Protest: Greenpeace Arctic drilling demo ends in arrests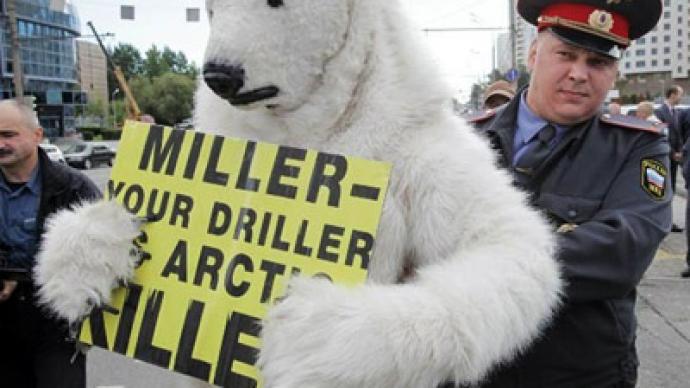 Environmental campaigning organization Greenpeace has staged a new protest attacking gas giant Gazprom's plans to drill for fossil fuels in the Arctic. Ten activists were arrested by police at the Moscow demonstration.
Several dozen environmentalists from Russia and other European countries dressed in polar bear costumes unfurled banners outside the Gazprom headquarters with slogans which stated, "Save the Arctic" and "Gazprom driller is the killer."The activists were detained within minutes for staging an unsanctioned protest. They are expected to be released later on Wednesday.Gazprom is just one of a handful of energy giants who are leading the race to explore the energy potential of the Arctic, which is estimated to hold a third of the world's undiscovered oil and gas reserves.Greenpeace has conducted an aggressive campaign insisting that the exploration is not safe. The group has collected more than 1.7 million signatures on its website, including celebrities such as Paul McCartney and Penelope Cruz."The chance of an accident in these extreme conditions is very high, and there are no effective technologies for clearing up spills off the ice. The Arctic is already undergoing severe transformations due to climate change, and we believe that the only solution is to declare the entire area a nature reserve," said Vladimir Chuprov, Greenpeace Russia's energy officer.
Just last month, Greenpeace activists attempted to board a Russian arctic drilling station. Several days later, two more activists chained themselves to the anchor of a ship transporting workers to a new drilling site. The group has staged similar protests against other oil and gas companies over the past two years, including Cairns in Greenland and Shell in Alaska.Gazprom says that it is prepared to enter into "constructive dialogue" with environmentalist organizations, but urges them away from public stunts. It also insists that its projects – completed with technology developed by Western companies – are as safe as they can be.Gazprom has recently shelved its project on the massive Shtokman field in the Arctic, citing excessive costs.As Gazprom says it plans to continue drilling in the arctic, Greenpeace activists show no signs of giving up their fight. "Of course such events won't stop now. It's just one stage of the campaign. We will fight on using peaceful methods," said Pavel Dolgov, who heads Greenpeace's Arctic campaign in Russia.But Piers Corbyn, the director of WeatherAction.com, is convinced that by their anti-Gazprom protests the Greenpeace activists are pointing the world in the wrong direction."In terms of their general ideas – why do they keep going to the Arctic to make protests?" he questions. "I think it is because they want to hide the fact that the world is actually now cooling. And that is completely against what their claims are about the global warming."
You can share this story on social media: