Teens arrested for attacking disabled veteran in downtown Cleveland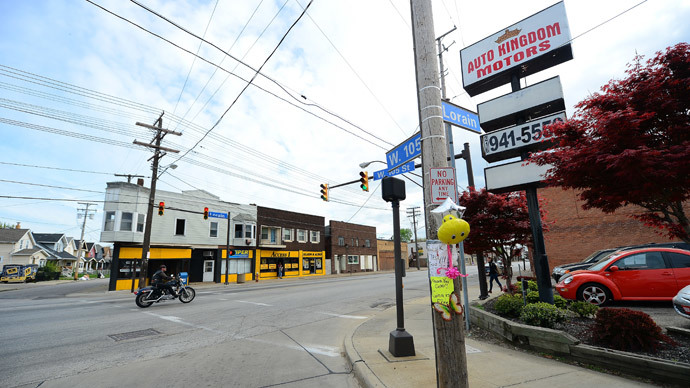 Authorities in Cleveland, Ohio have arrested three teenagers believed to be involved in the violent beating of a disabled Army veteran earlier this month.
Three suspects — Kenneth Matthews, Ronald Reid Williams and an unnamed 16-year-old girl — have all been apprehended by police during the last week, local media reported, in connection to a surprise assault that occurred in downtown Cleveland.
Matthew Robinson, a disabled United States Army vet, told Cleveland's 19 Action News that he had just exited a city bus on Friday, February 7 when a group of six to eight teenagers followed him, then attacked.
"What they were saying was, 'Knock that boy out!' 'White boy.' 'Cracker.' They were saying, 'Knock that white boy out," Robinson recalled.
"The whole time I'm just thinking, pretty much protect myself and don't let anybody in behind you. No-one stepped in to help, so I thought it was a shame," he told 19 News.
Police say the teens mugged Robinson of his belongings, all the while videotaping the incident as it unfolded. According to a local CBS affiliate, the unnamed 16-year-old still had a recording of the assault on her cell phone when she was apprehended by authorities.
Now according to the Daily Mail, Robinson hopes authorities will lock up his assailants.
"I think there should be jail time for assaults. Who's to say that your mother or sister couldn't be on the bus, and the same thing could happen to them?" the outlet quoted Robinson as saying. "No-one should have to deal with that kind of racism or ridicule."
Unfortunately for Cleveland, however, the local media reports that there has been a rash of beatings in the city in recent months, often perpetrated by the likes of violent teenagers. One of Robinson's alleged assailants, in fact — Kenneth Matthews — was busted by Cleveland police before last week's incident for attempting to steal a woman's cell phone, 19 Action News reported. Cops have since started patrolling parts of downtown on horseback, especially after a 17-year-old boy was randomly knocked unconscious there last month while waiting for a bus.
The victim's age has not been released, but a public LinkedIn profile believed to be registered by Robinson suggests he served in the US Army as an infantryman sniper. According to that profile, he served for nearly eight-and-a-half years beginning in September 2004.
You can share this story on social media: