Clerk who helped inmate exonerate himself with DNA evidence fired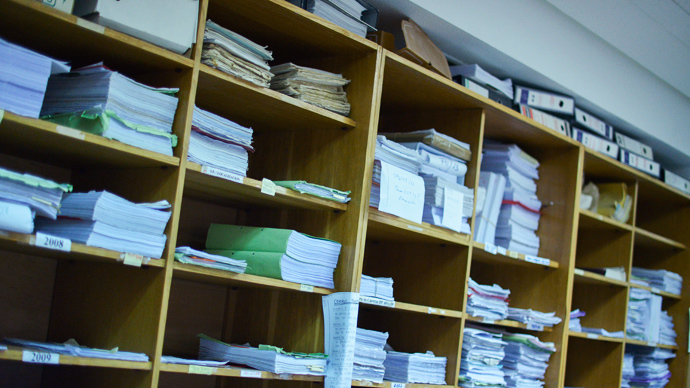 Thanks to new DNA evidence a Kansas City man was released from prison three decades after a wrongful rape conviction, though the 70-year-old clerk instrumental in his release was fired for insubordination.
Sharon Snyder, who was fired about nine months prior to her retirement after 34 years as a court employee, was let go by a Jackson County Circuit judge in Missouri for offering legal advice to 49-year-old Robert Nelson, convicted in 1984 to 50 years incarceration for a Kansas City rape the year prior.

Nelson maintained his innocence in the case since that conviction, and in August of 2009 filed a motion with the court seeking DNA testing that had not been available at the time of his trial 25 years prior, reports the AP. That motion was denied, evidently due to Nelson's lack of knowledge of the law to make a proper case.

Two years after that petition Nelson filed another motion seeking DNA testing, but was again denied. Following that second attempt, Snyder gave Nelson's sister, Sea Dunnell, a copy of a successful motion filed for a different case which had also requested that DNA evidence be tested.

Nelson, who had no legal representation at the time, was able to use that motion as a guide for his own, which he filed successfully in February of 2012. In August a judge sustained the motion and assigned Nelson Laura O'Sullivan, legal director of the Midwest Innocence Project to be his legal representative.

Last month the Kansas City Police Department used DNA evidence to exclude Nelson as a suspect in the 1983 rape case, which resulted in his release on June 12.

Only five days after Nelson's release Snyder was taken into a judge's chambers and told that both the prosecutor and attorney "had a problem" with her intervention in the case. Although the documents that Snyder gave Nelson's sister to file a successful motion with the court would have been available as public record, it was not conceivable that she would have ever been aware of its existence were it not for Snyder's help.

"The document you chose was, in effect, your recommendation for a Motion for DNA testing that would likely be successful in this Division," Judge Byrn wrote. "But it was clearly improper and a violation of Canon Seven ... which warns against the risk of offering an opinion or suggested course of action."

Snyder was fired from her job on June 27, told that she had violated court rules by providing assistance to Nelson, and speaking about details of the case to attorneys not involved in the matter.

According to the New York Times, this is not the first time that the Innocence Project has represented an individual who faced obstacles in obtaining exonerating DNA evidence in their case.

Joseph Buffey, who was wrongfully convinced to 70 years in prison for the 2001 rape of an 83-year-old woman, came to the attention of Innocence Project lawyers after he wrote them a letter several years ago.

In the Spring of 2011, a test on the victim's rape kit showed that Buffey's DNA was not present at the crime scene. However, once Buffey's lawyers asked a judge to run those results through a West Virginia database of felons to find a match the prosecutor refused as the lab was not certified by the state.

A second request by Innocence Project to run the test through a certified lab was also refused by the prosecution, stating that "the state does not believe such testing will or can prove the defendant's innocence after his guilty plea." The judge ordered that test to go forward despite the objection of prosecutors, who said they suspected multiple men were involved in the rape case, though the victim had said only one individual was involved.

Buffey's case is similar to Nelson's in that the obstacles to obtain potentially exonerating DNA evidence are high. In addition to needing the requisite legal knowledge to file a proper motion with the court, a 2009 US Supreme Court ruling stated that a defendant willing to pay for a DNA test at his own expense was not entitled to do so. Chief Justice John G. Roberts said that such an allowance risked "unnecessarily overthrowing the established system of criminal justice."

Only nine US states currently have laws granting defense lawyers access to a national DNA database, according to ThinkProgress. Meanwhile, in a June decision the Supreme Court ruled that officers be granted access to collect DNA information from suspects under arrest but not yet charged without probable cause.

You can share this story on social media: