Aurora cinema shooting: Judge approves 'truth serum' interrogation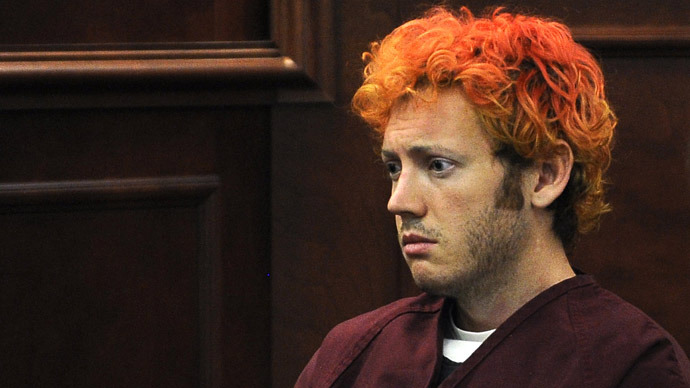 James Holmes, the student accused of the 'Batman' movie massacre in a Colorado cinema, could be given a truth serum as part of a narcoanalytic interview to determine whether he is insane, as a judge enters a not guilty plea on his behalf.
James Holmes, 25, a former neuroscience PhD student, is accused of killing 12 people and injuring 70 others during a shooting rampage during a 'Batman' movie premiere at a cinema in Aurora, Colorado, last July.
Holmes faces a total of 166 different counts relating to the shootings.
His defense team had initially said he was not ready to enter a plea, so the judge entered a not guilty plea on is behalf. Judge William Blair Sylvester said Holmes could change his plea to not guilty by reason of insanity later, if he chooses to.

His defense lawyers had indicated that he may plead not guilty by reason of insanity. If he does enter an insanity plea, the judge has ruled that he may have to undergo an interview under the influence of drugs –dubbed a 'truth serum' – in order to evaluate his mental state.
The process is designed to lower a patient's inhibition, and is decades old. Judge Sylvester has also ruled that he may be given a lie detector test.
Prosecutors have said they will announce whether they will seek the death sentence on April 1. If they do seek the death penalty following a not guilty by reasons of insanity plea, then legal complications are likely to develop, as the defense will have to submit incriminating evidence to prove Holmes's insanity.
This evidence may then be later used against him by the prosecution, which under US law would breach his constitutional right not to incriminate himself.
"Was he suffering from a mental disease or defect that rendered him incapable from distinguishing right from wrong? If the defense had to prove that, that would be one thing, but here in Colorado the prosecution has to disprove it. To prove sanity beyond a reasonable doubt with James Holmes could be tough," Craig Silverman, deputy district attorney for Denver, told Sky News.
Colorado is unusual in putting the burden of proof on the prosecution when a plea of insanity has been entered.
Silverman added that he was expecting the case to be beset by delays: "Delay is the natural ally of any death penalty defendant. The longer the case drags out the longer the client is assured to stay alive."
The case is one of the worst in US history in terms of the number of people killed. Like similar mass shootings that have occurred in America in recent years, it has prompted a debate about US gun laws. Politicians in Colorado have introduced new restrictions on gun ownership, while national efforts at gun control appear to have stalled.
On Monday, a package put together by Colorado Democrats went through the state senate.  They include a limit on the kind of high-capacity magazine Holmes is accused of using in the shooting, expanded background checks, and a new ban on owning a gun for people facing charges of domestic violence.
While the measures have not yet been enacted, the house is under Democratic control and will likely approve the proposals.
You can share this story on social media: