US military confronts trust issue as CIA targeted at Afghan base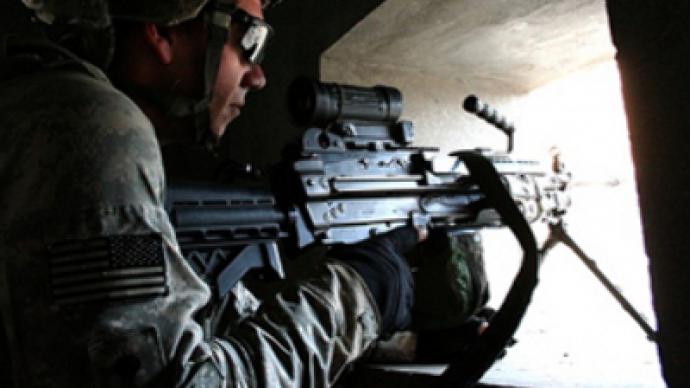 A suicide attack has left 8 CIA personnel dead and at least 6 others wounded inside a US military facility, dealing a setback for President Barack Obama's war strategy.
A suicide bomber on Wednesday managed to breach security at the Forward Operating Base Chapman in Khost Province, on the border with Pakistan, and detonate his explosives vest.
The blast, which US officials say occurred inside of a gym facility at the compound, killed 8 CIA personnel and injured 6, making it the deadliest attack against US intelligence officers since military operations began in 2001.
A source inside of the US military said that FOB Chapman was originally built as a base for the Khost Provincial Construction Team, but the team vacated the premises several years ago. The source speculated that the facility was probably being used as an intelligence gathering post in both Afghanistan and nearby Pakistan, where attacks by the Taliban have been on the rise.
The Taliban, which has handed US forces their deadliest year since "Operation Enduring Freedom" began in 2001, claimed responsibility for the attack.
Meanwhile, in a separate incident Wednesday, four Canadian soldiers and a journalist died when their armored vehicle was hit by a roadside bomb.
The attack happened about 4 kilometers (2.5 miles) south of Kandahar, where the Canadian contingent has its headquarters.
"The soldiers were conducting a community security patrol in order to gather information on the pattern of life and maintain security in the area," Brig. Gen. Daniel Menard, the commander of the Canadian contingent, told reporters. "The journalist was traveling with them to tell the story of what Canada's soldiers are doing in Afghanistan."
The reporter, who worked with the Calgary Herald, was identified as Michelle Lang, 34, who had been with the newspaper since 2002. Canadians today are mourning Lang as the first journalist from Canada killed in the Afghan war. Her death, along with those of the soldiers, will most likely intensify public opinion against the war in Afghanistan.
The deaths bring the number of Canadian troop fatalities in Afghanistan to 138; the names of the dead have not been released pending notification of the soldiers' families.
Wednesday's deaths are the most Canadians killed in a single incident in Afghanistan since six Canadian soldiers died in a bombing on July 4, 2007. Canada has 2,800 troops in the war-torn nation.
Since the United States began military operations in Afghanistan in 2001, there have been a total of 1,567 Coalition deaths. This year has witnessed the worst increase in deaths since the war began: In 2008, US forces in Afghanistan reported 155 killed soldiers; in 2009, that number has risen to 319.
The statistic sheet looks equally grim for British troops fighting in Afghanistan: In 2008, 51 UK soldiers were killed; in 2009, the number of total fatalities jumped over 50 percent to 107.
Is America losing Afghanistan?
US officials have not released any information explaining how a suicide bomber managed to breach security, but one hypothesis is easily imaginable: it was an inside job, in the very worst sense of that description. In other words, the suicide bomber, who was identified as a member of the Afghan National Army officer, was probably working directly with Coalition forces.
The Afghanistan National Army (ANA), according to their website, "is being trained by the coalition forces to ultimately take the lead in land-based military operations."
The website goes on to explain the enormous investment that the United States has made in arming this home-grown fighting force.
"Since 2001, the United States has provided more than $2 billion worth military equipment and facilities to Afghanistan. Another further $2 billion worth military aid was announced in 2006… which will include 2,500 Humvees, tens of thousands of M-16 assault rifles and body armored jackets. It will also include the building of a national military command center. To thwart and dissolve localized militias, the Afghan government has offered cash and vocational training to encourage members to join the ANA."
With this sort of firepower being handed over to the Afghan forces, it goes without saying that a great deal of trust must be included in the bargain. But today it appears that that holy trust is eroding.
Indeed, it is not the first time that Coalition forces have fallen to "friendly fire."
In early November, five British soldiers were gunned down by an Afghan policeman they were training after returning from field operations.
The Afghan officer opened on the UK troops with an AK47 as they sat down to eat in a fortified compound in lawless Helmand province after a patrol. The Taliban took responsibility for the attack.
According to UK media, the British soldiers "had been mentoring local police, sharing their food, billets and the dangers of community patrols."
The attacks hit a raw nerve with the British public, already nearing the end of their patience with the ongoing war.
Amid fears the Taliban has secretly infiltrated Afghanistan's security forces, some Labour MPs argued that it was time to consider pulling out their 9,000 troops.
David Winnick, Senior Labour parliamentarian, asked UK Prime Minister Gordon Brown directly: "Isn't the country entitled to know how long British military personnel will be in Afghanistan and can this war be won?"
In the same week, US Major Nidal Malik Hasan, a Muslim serving in the US Army as a psychiatrist, opened fire on fellow troops at Fort Hood Army base in Texas, killing 13 and wounding dozens.
Hasan, 39, had spent years counseling wounded soldiers at the Walter Reed Army Medical Center in Washington, many of whom were recovering from severe injuries sustained while fighting in Iraq and Afghanistan.
American Muslim groups expressed remorse, while adding that the incident appeared to have been carried out by a single disturbed person.
"Thousands of Arab Americans and American Muslims serve honorably every day in all four branches of the U.S. military and in the National Guard," the Arab American Institute said in a statement.
But closer to the Afghan theater of operations, there is strong evidence that the Taliban has successfully infiltrated parts of Afghanistan's security apparatus. But to what degree nobody really knows yet, especially when it is considered that some individuals, like Hasan, may carry out acts of violence against Coalition forces due to mental disturbances or some sort of personal convictions. Hasan, for example, was known to openly criticize America's Middle East mission.
This presents a highly disturbing scenario for US military leaders, namely because a victory against the Taliban in Afghanistan, where Barack Obama has just agreed to send an additional 30,000 troops, is absolutely contingent upon the trust of the Afghan public that US forces are working side-by-side training and fighting with against the enemy.
But as things stand, Coalition forces must contend not only with an enemy beyond the walls of their compounds, but a silent one that sometimes exists in their midst like ticking time bombs; this presents the greatest threat for US forces to date, because once that trust erodes to a certain point, and fatalities mount due to treachery behind the lines, morale will quickly collapse as well.
Without a high level of trust in Afghanistan between the Coalition forces and the native Afghan population, there will be no "mission accomplished" celebrations on Main Street.
Update
On Thursday, an American intelligence official vowed that the United States would avenge the terrorist attack on the U.S. base in Afghanistan that resulted in the deaths of seven CIA officers.
Two of those killed were contractors with the private security firm Xe, formerly known as Blackwater, a former intelligence official reportedly told CNN. The CIA considers contractors to be officers.
An intelligence official confirmed that the casualties included a mix of professionals – CIA staff and contractors. Six others were wounded in the attack.
US intelligence sources have said Friday that the suicide bomber who killed seven CIA agents in Afghanistan had been courted by the US as a possible informant in an intelligence-gathering operation.
They revealed he had not undergone the routine body search before entering the base in Khost province, thus enabling him to smuggle in an explosive belt.
You can share this story on social media: