Bowing to public outrage, pharma company to give dying boy experimental drug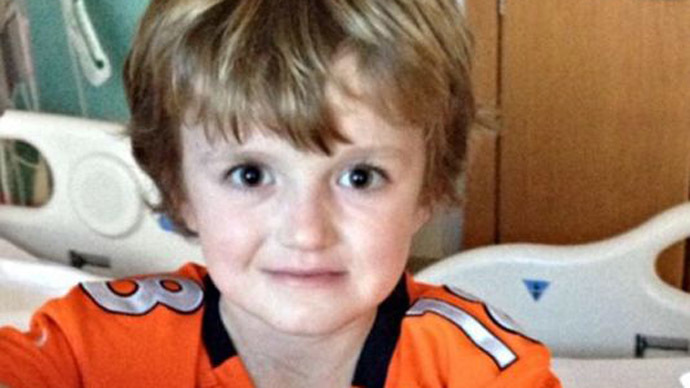 A North Carolina pharmaceutical company has reversed its stance and announced it will provide a cancer-stricken 7-year-old with an experimental drug after public outrage condemned a policy that forbid them to give him the potentially life-saving drug.
Josh Hardy has been battling various forms of cancer since he was only nine months old. Whether it was in his kidneys, thymus, lungs, or bone marrow, the boy managed to overcome the disease every time.
After a bone marrow transplant severely damaged what remained of his immune system, though, doctors discovered in February that a viral infection currently spreading through his body is putting his life in danger. As noted by CNN, he is currently in critical condition and vomits blood multiple times every hour.
The attending doctor told Todd Hardy, Josh's father, there is one drug that "will cure and save" the boy, currently being developed by North Carolina-based Chimerix. Despite "multiple requests" made by St. Jude's Children Research Hospital in Memphis, Tennessee, however, the company has declined the provide the medication.
"Our son will die without this drug," Todd Hardy told CNN. "We're begging them to give it to us."
When asked why the company won't supply the antiviral called brincidofovir, Chimerix President and CEO Kenneth Moch said that if it did for one patient, it would have to do it for all the others who request it.
"We have have great compassion for this family," Moch said to USA Today. "But this is not just about a single boy."
"If this were just one patient wanting this drug, then this would be a very different question," he added to CNN. "But it's yes to all or no to all."
The Hardys' plight inspired Internet users from all over the world to use social media to pressure the company to change its stance. In a statement Tuesday, Chimerix revealed, the pressure worked - Josh will be one of 20 patients to receive an experimental clinical trial of the drug. While the Food and Drug Administration has yet to approve the drug, the agency did grant Chimerix permission to carryout the trial.
Josh's family is staying with him at St. Jude Children's Research Hospital in Memphis, Tennessee. From there they thanked supporters via Facebook.
"You did it. You Saved Josh. Thank you Chimerix and Josh's Army," they wrote.
Under the "compassionate use" procedures outlined by the Food and Drug Administration, if traditional treatments have failed to cure a patient, they can request experimental drugs from companies even if the government has not yet approved them. Many companies accommodate the request, but oftentimes pharmaceuticals – such as Chimerix – decline to fulfill such applications.
According to CNN, Moch said Chimerix would have had to pay out $50,000 per compassionate use request it fulfills due to the fact that insurance doesn't cover unapproved drugs. At the same time, he added that diverting resources to expanding its compassionate use coverage would simply delay the drug's official approval, thereby hurting many other patients by slowing its arrival on the market.
In the statement Tuesday announcing Josh would be given the drug Moch said, "Being unable to fulfill requests for compassionate use is excruciating, and not a decision any one of us ever wants to have to make. It is essential that each individual in a health crisis be treated with equal gravity and value, a principle we have upheld by pursuing further clinical study of brincidofovir."
Chimerix has provided brincidofovir to 430 compassionate use patients in the past, but initially said that in the case of Josh Hardy, the boy does not meet the requirements for any of its ongoing test trials.The statement advised that while being administered the drug is a positive step, there is still a long way to go.
"This drug is experimental and has not yet been approved by the FDA and the safety and effectiveness of the medication has not yet been established for use in children," it continued. "It is also important to understand that this remains a critical and complex medical situation."
You can share this story on social media: