US 10-year-old gets three years for plot to kill classmate
Published time: 16 May, 2013 18:48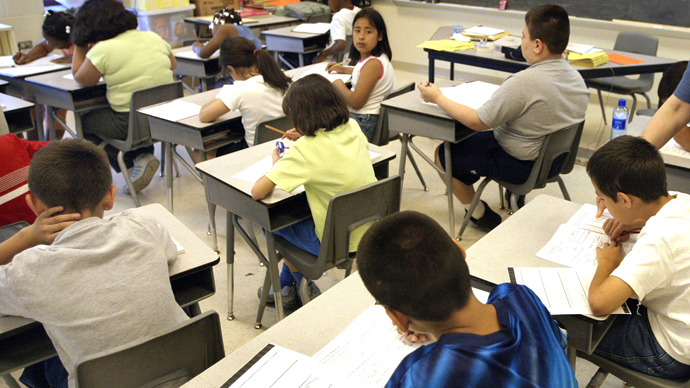 A judge in Washington State has sentenced a 10-year-old boy to a minimum of three years in juvenile detention for conspiring to kill a girl in his class.
A second boy, age 11, was also charged in the incident and has a court hearing in June.
Back in February, a teacher caught the boy and his friend, whose names are withheld, trying to sneak a gun and knife into Fort Colville Elementary School in Stevens County, which is some 215 miles east of Seattle. According to the Business Insider, the boy had a .45 caliber Remington 1911 semi-automatic handgun on him.
Court records state the fifth-graders planned to kill one of their classmates because "she was really annoying". Previous news reports also suggested the two intended to rape the girl.
Judge Allen Nielsen sentenced the boy to three to five years in a juvenile security facility, which will provide him with schooling and psychological services.
"It never escapes my mind that these are children. It is very troubling when children do things adults do – it leaves you questioning why," said Prosecutor Tim Rasmussen.
Washington law states that children between the ages of 8 and 12 do not have the mental capacity to intentionally commit crimes, but Judge Nielson ruled in March that the boys were competent to stand trial.
The 10-year old had told investigators that he stole the gun from his older brother, who stole it from his late grandfather.
Police say the boys showed no remorse, although according to local newspaper the Spokesman Review, the 10-year old cried and told the judge "I know that this is a bad thing I've done."
"I don't have an explanation and the explanation that the boys gave for why they had planned to do this is entirely inadequate," Rasmussen told reporters after the trial wrapped up.