Cuff cop out: US 6yo 'old enough' for restraint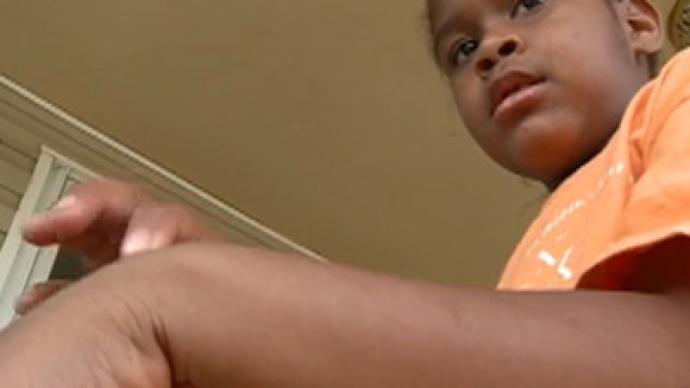 Looking for a way to calm down a six-year-old? Handcuffs are your perfect answer. At least, according to police officers in the US state of Georgia, who say there is no age discrimination when it comes to cuffing suspects.
A solution child psychologists might envy was worked out when pupil Salecia Johnson, having one of her regular tantrums, was taken to the principal's office at Creekside Elementary, Milledgeville, GA.Distressed, the girl was unlucky enough to knock over a shelf that happened to injure the principal. The principal had no qualms in calling the police, accusing Salecia of assault and damage to property. The police arrived and took the child to the station for charges – first, though, handcuffing her "for safety." "Our policy is that any detainee unreported to our station in a patrol vehicle is to be handcuffed in the back," said Milledgeville Chief of Police Dray Swicord. "There is no age discrimination on that rule."The incident came as a shock for Salecia's parents. Contrary to normal practice, they were not immediately informed of the situation. The officers say they tried to contact the parents but were unable to reach them."She has mood swings some days, which all of us have," the girl's mother, Constance Ruff, told 13WMAZ channel. "I guess that was just one of her bad days. Isn't there any other kind of intervention that can be taken to help my child?""The use of handcuffs would be at the officer's discretion," added an anonymous police officer. "It is based on whether the child is a threat to herself or others."Given her age, Salecia will not have to go to court and will not be sentenced. Constance Ruff says her daughter was suspended and cannot return to school until August.
You can share this story on social media: