Gun found in 7-year-old schoolboy's backpack in NYC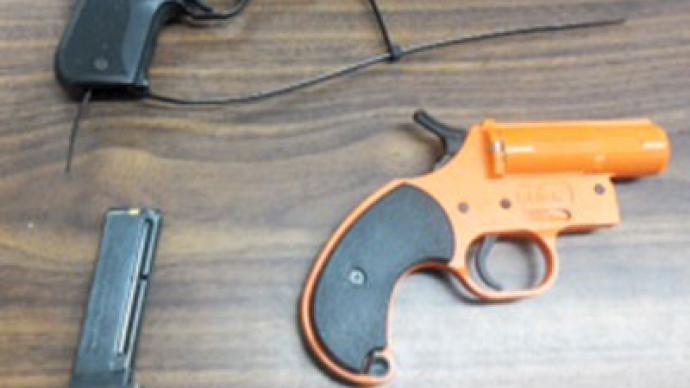 A handgun was discovered in the backpack of a second grade student at a public elementary school in New York City, just two days after state Governor Andrew Cuomo signed post-Newton gun restrictions into law.
The .22-caliber weapon was unearthed from the 7-year-old boy's bag on Thursday morning at Wave Preparatory Elementary School in the Queens borough of New York City. The school was then placed on lockdown, just after 10:00am local time.
Alongside the semiautomatic pistol, police also seized ammunition and a flare gun from the young boy's satchel. The horrifying incident took place amid heightened concern regarding gun violence in US schools, following the December tragedy at Sandy Hook Elementary School in Newtown, Connecticut, in which 20 children and six educators were massacred.
Two hours after the boy arrived at Wave Preparatory, his mother learned that he had the gun and attempted to apprehend him at the school, telling administrators that he had a dentist appointment. The boy told his mother that he had given the gun to a second grade classmate, leading her to alert the principal.
Students were then instructed to remain in their classrooms after the principal announced the school was in 'lockdown' status. Javier Ferrufino, an 11-year-old in fifth grade, told the New York Times, "I thought we were going to get killed… we went to the back of the classroom. I hid with my friend behind some computers."
It remains unknown how a boy so young came to be in possession of the handgun. However, he reportedly has two older brothers aged 21 and 27 – the question of whether the young boy was aware of the weapon's presence in his bag is under investigation.
Heightened fears following the Sandy Hook shooting massacre have led to intense discussions regarding gun control measures in the US. On Wednesday, President Barack Obama urged Congress to approve a ban on assault weapons and high-capacity magazines, and institute thorough background checks on all gun buyers. However, on Thursday, Senator Rand Paul (R-KY) derided the President's attempts to exert power in this arena, comparing his actions to those of a monarch.
Obama's skepticism over placing armed guards in schools was criticized as hypocritical by the NRA on Tuesday, on the grounds that his children have secret service protection. A Reuters poll on Thursday found that 72 percent of Americans favored the proposal to station armed guards in the nation's schools.
 However, the same Reuters poll found that 74 percent of Americans are in favor of a ban on assault weapons, and 86 percent approve of expanded background checks on all gun buyers.
You can share this story on social media: