Pennsylvania pro-gun police chief will be fired for YouTube videos gone viral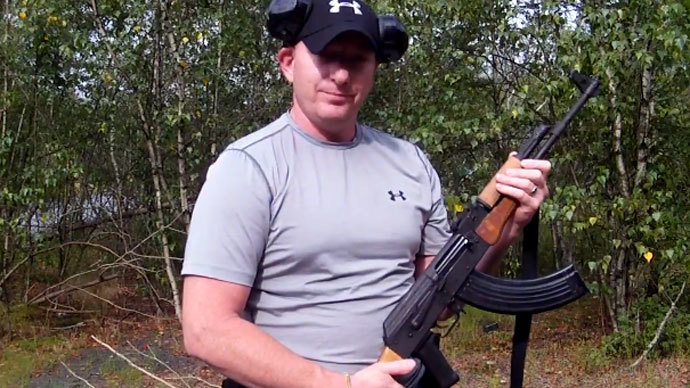 Local officials voted 6-1 Thursday night to terminate the police chief of a small Pennsylvania borough who came under fire earlier this year for posting profanity-laced YouTube videos featuring his arsenal of firearms.
The sun will likely soon set on Chief Mark Kessler's tenure as Gilberton, PA police chief following Thursday's meeting in which the council governing the borough of barely 800 people moved to terminate its loud mouth local YouTube sensation and the area's only full-time lawman.
Kessler made international headlines months earlier when his online videos went viral, and in turn exposed the world to a series of verbally explicit uploads ripe with taunts targeting liberals and often punctuated by the officer's pulling of the trigger on any which automatic weapon at his disposal.
"Fuck all you libtards out there ... yous take it in the ass," Kessler said in one video uploaded to the Web in June. "I don't give a fuck what you say, so you can all go fuck yourselves. Period."

"Secretary of State John Kerry, that piece of shit traitor. Who is he to decide what we can and can't own? And fuck the UN. Who are they to decide what we, the American people, can own?" Kessler asked in another that referenced reports of a potential United Nations treaty involving the export of certain weapons.
Kessler has been suspended without pay since July 31, but Thursday's vote signaled his official termination, pending a likely appeals hearing.
"We knew it was coming," Kessler told the Associated Press. The council's decision, he said, came as "no surprise."
Hours earlier, he wrote on his personal Facebook page that he predicted termination would come from that evening's "kangaroo court" hearing. Earlier in the week, he posted doctored images of United States President Barack Obama — one displaying the commander-in-chief as the devil and another as Hitler.
But whereas Kessler has defended his Internet postings and its contents as protected by the First and Second Amendments, the Gilberton borough, legally, didn't reprimand him for letting loose on camera and on the web. Kessler had been suspended over allegations that he misused borough property — namely the automatic weapons he fired off on film. 
John Luciew of Pennsylvania's Patriot -News reported that officials also accused Kessler of tampering with a borough computer, making derogatory statements about council members and a barrage of other complaints. Kessler's attorney, Joseph Nahas, said he refuted those allegations.
The Associated Press reported from Gilberton that Kessler maintained his innocence and told reporters he hadn't broken any laws.
"None," Kessler said. "I'd be in handcuffs."
"I feel in my heart I'm doing the right thing," he added. "Yeah, I made some videos with some choice language, but that's my right. That's my freedom."
On Kessler's website, the homepage claims, "The real reason he was suspended was because elites in Washington DC demanded his JOB for videos depicting the Chief exercising his First & second amendment right! although the Videos are spicy the Chief violated no policy, broke no law, because the chief stood his ground and said no more, no more will he stand idle and watch as his country crumbles, for this the Chief was selectively persecuted by elected elites who only want to instill their will onto  Americans despite what we the people say!"
Next, Kessler is expected to challenge the council's decision at an upcoming public hearing.  Luciew wrote that it could occur as soon as in ten days. His termination would then go into effect should he lose his appeal. Otherwise, Kessler's $33,000 annual contract with the borough will expire at the end of 2015.
You can share this story on social media: