Cops over classrooms: Chicago uses teachers' salaries to pay for school police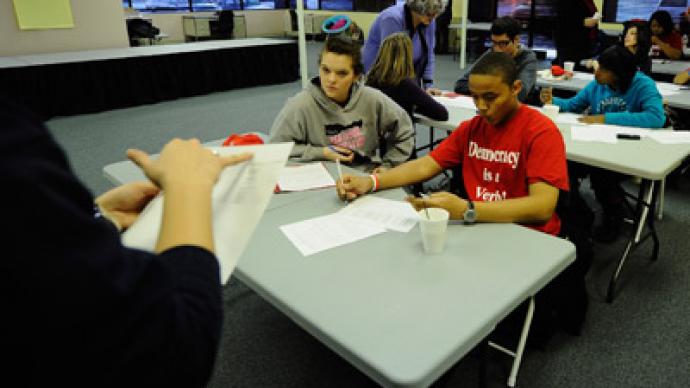 The union that represents public school teachers in Chicago, Illinois says that the city lied about around $70 million in finances to fund the police department with money already put aside for educators.
The Chicago Teachers Union (CTU) has uncovered an agreement signed by city officials through a Freedom of Information Act request that they say shows that millions of dollars meant to go towards contractually obligated raises for public school workers were instead funneled to the Chicago Police Department (CPD) to compensate law enforcement for patrolling the halls of those very schools.According to a post published on the website for the CTU, the documents obtained in the recent FOIA request reveal that the city took $70 million set aside for teacher salaries and unemployment benefits and sent it to the Police Department to use for paying the cops that were dispatched across Chicago's school system last year. The CTU describes the FOIA documents as showing that the public school system has been spending around $8 million each year since 2002 so that they could keep a team of cops on the premises of around 100 city schools. On February 24, 2010, the school board agreed to continue this payment plan through the end of 2012 at a cost of $32.8 million, but only a year later the school board was forced to nix a promised 4 percent raise for teachers."But a month after CPS [Chicago Public Schools] cancelled last school years 4 percent raises to CPS teachers, which would have cost an estimated $80 million, CPS then authorized a renegotiation of its CPD deal to pay the Police about $25 million per year, more than three times the agreed amount, for the same time period 2009-2012, for a total increase of $70 million for these same services," reads a blog post on the union's website. They add that the CPS then approved a retroactive payment of $47 million for services already rendered by the police.Now educators are extra upset, though, because the FOIA documents are described as outlining money contractually set aside for educators "to pay for the Chicago Police Department" insteadThe teachers' union says, "CPS then falsely told the media that these payments were 'owed' to CPD, and that CPS 'had no choice' but to make these payments.""This shows us the Board lied about not being able to afford our raises — they just put the money elsewhere. Instead of giving our hard working educators the money they deserve, they diverted it to the police department and then lied to the public about it," CTU President Karen GJ Lewis says in a statement.Robert Bloch, an attorney for the teachers' union, adds that there is no logic behind tripling police pay that should be spent on satisfying the educational requirements of Chicago's schoolchildren. "The officers assigned to the high schools are processing arrests, just as they do at any other public facility. The officers do not report to CPS officials, and CPS provided them computers at no charge to process arrests," Bloch claims. "The Chicago Police Department accepted $8 million a year for over a decade for these services. There is no valid basis to now pay $25 million a year, most of it for services already performed, except when politics interferes with education." A vote among members of the CTU last month ended with 98 percent authorizing a plan to strike if the city doesn't heed their demands for a pay raise. But while the teachers' union is up in arms about the future of the public school system, safety in Chi-Town is also a growing concern: the homicide rate in the Windy City is up nearly 38 percent from one year earlier.Speaking to the press this week, Chicago Mayor Rahm Emmanuel defended the city's recent handling of violent crimes despite the gloom statistics. Meanwhile, the Chicago youth advocacy group Project NIA studied the effects of policing city schools earlier this year and insisted that the act of dispatching cops across classrooms was creating a "schools-to-prison pipeline.""Students are needlessly arrested for offenses as minor as disorderly conduct, which can include swearing at a teacher or throwing spitballs," NIA's Amanda Petteruti wrote in the report this January. "[In-school police] lead to discipline applied without the filter of school administrators or policies. This in turn leads to a troubling disruption of the educational process … the result of which is some students who never become re-connected to school."
You can share this story on social media: