Exonerated Chicago man claims police tortured him into confession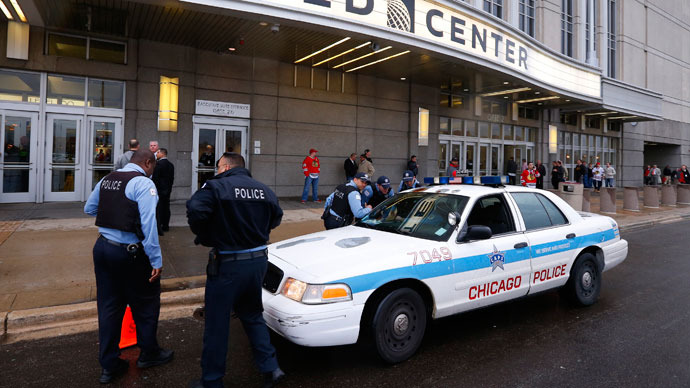 After spending 24 years in prison for a crime he didn't commit, a Chicago man has filed a lawsuit claiming that police subjected him to violent torture methods that made him urinate blood to force him to make a false confession.
James Kluppelberg was released from a southern Illinois prison in May 2012 after his case was dismissed, 24 years after he was convicted and locked up for an arson-murder. The man was charged with setting a March 1984 fire that killed a woman and her five children – a felony crime that Kluppelberg confessed he committed.
Prosecutors initially sought the death sentence for Kluppelberg, who was 18 years old when the fire occurred and 22 when he was imprisoned. But he received a life sentence and insisted on his innocence throughout his imprisonment.
During an appeal, the man's defense attorneys argued that the fire was not arson, and that the confession was invalid because Kluppelberg had been coerced. Now, the former inmate is arguing that he was subjected to brutal torture at the hands of police, and is demanding punitive damages.
Former Chicago police Commander Jon Burge, who is named in the complaint, was convicted in 2011 for lying about police torture and sentenced to 4 ½ years in prison. Evidence presented at his trial showed that he suffocated suspects with plastic bags, held loaded guns to their heads and shocked them with electrical devices, Courthouse News reports.
The former commander was allegedly also involved in the torture inflicted upon Kluppelberg.
"Despite Mr. Kluppelberg's innocence, the defendants beat a false confession out of him, hitting him so violently that he was urinating blood," the lawsuit states. "The trial court ultimately suppressed Mr. Kluppelberg's confession, finding that it was 'obvious' that [he] had been severely mistreated, but not before the confession was used by the defendants to set in motion [his] wrongful arrest and prosecution."
The complaint alleges that the defendants knew the man was innocent throughout the trial and that they conspired to generate false witness statements and fabricated arson evidence. The former girlfriend of Kluppenberg testified against the man, allegedly because police beat her and threatened her children, the lawsuit states.
The man was arrested in 1988 even though police had already identified a woman who told them she "may have set" the fire, but couldn't remember because she was intoxicated on the night of the incident.  The original fire investigators had allegedly stated that the origin of the fire could not be determined, but the defendants used false evidence to convict Kluppelberg, likely to cover up the actions of the intoxicated woman. The woman had admitted to setting a different home in the same neighborhood ablaze, but all information about her was withheld during the trial.
The complaint states that Burge and 13 other Chicago police officers were involved in torturing Kluppelberg. The suit also seeks damages from two members of the Chicago Fire Department and the City of Chicago.
The case is the latest in a series of lawsuits filed against Chicago police on allegations of torture. In January, the city of Chicago was forced to pay $10.25 million to compensate a man who spent 26 years in prison for a murder he didn't commit. The victim, Alton Logan, said police, including the former Commander Burge, had tortured him into confessing.
Before this settlement, the city had already paid about $30 million to compensate victims tortured under Burge's leadership and $16 million in legal fees, the Chicago Sun Times reported.
Last month, a commission that investigates claims by inmates who say they were tortured found seven new cases that it may pursue – five of which involve Burge, and all of which will be referred to the chief judge of the Circuit Court of Cook County, ABC reports.
Between 1972 and 1991 – the years that Burge served as commander – approximately 135 African-American men and women were arrested and tortured under his leadership, the University of Chicago's Human Rights watch reported in 2007.
"It is common knowledge that in the early to mid-1980s Chicago Police Commander Jon Burge and many officers working under him [partook] in the physical abuse and torture of prisoners to extract confessions," concluded the 1999 court case Maxwell v. Gilmore.
Reports of torture incidents involving Burge continue to arise and with each lawsuit, the city faces potential settlements at the expense of its taxpayers.
Despite the fact that Kluppelberg was released from prison in 2012, the 47-year-old will never regain the lost years that were robbed from him by police. He has struggled to make money and get back on his feet after spending more than two decades in prison.
"I'm really lost at this point," he told the Chicago Tribune while standing outside the Menard Correction Center with nothing but $14 in his pocket, last year. "I don't even know what's going to happen tomorrow morning."
The lawsuit seeks monetary compensation for violations of Kluppelberg's constitutional rights, malicious prosecution and emotional distress. If the former inmate's claims are valid, he could become the latest case in which the city will be required to shovel out taxpayer dollars to compensate Burge's torture victims.
You can share this story on social media: