Body of tortured Afghan unearthed near former US Special Forces base - report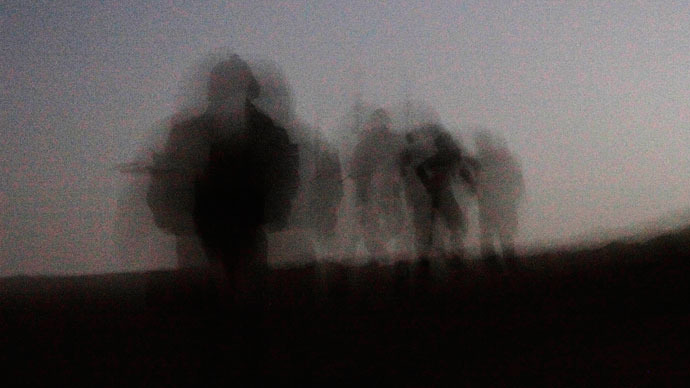 Afghan officials have reportedly found the footless body of a local man who went missing a half-year ago. The corpse was unearthed near the former A-Team US Special Forces base – where detainees were tortured and killed, locals claim.
Authorities alleged that the grisly discovery is directly connected to Zakaria Kandahari, a notorious wartime collaborator who Afghan officials believe has US citizenship.

Kandahari reportedly led a death squad that terrorized locals in Wardak Province, using the A-Team base in Nerkh District, a one-hour drive from Kabul, as a permanent residence.

The mutilated body was discovered by ditch diggers about 200 yards from the perimeter of Nerkh base in Wardak Province, the New York Times reported. The base was previously occupied by the A-Team US Special Forces unit, which withdrew in March. Rhe Nerkh base compound is currently occupied by Afghan Special Forces.
According to district governor Mohammad Hanif Hanafi, the corpse was found packed in a military-style black body bag. The victim was identified as Sayid Mohammad, a local resident who was allegedly seen being taken to an US base in November 2012.

This is not the first time that the partial remains and clothing of a missing person have been found near Nerkh base, Afghan officials said. A dismembered body was previously found in a garbage container just outside the US base.
An anonymous Afghan investigator for the Defense Ministry told the NYT that he has a list of names of 17 people who went missing in Nerkh District in Wardak Province between November and December 2012, when Kandahari's squad conducted operations such as detaining suspects and bringing them to the US Special Forces base.
The seized persons were reportedly never seen alive again. Nine of their bodies, including that of Sayid Mohammad, were found; the other eight remain missing.
The torture squad
The recently unearthed victim was the same man previously seen in a classified video recording made last year. US officials familiar with the matter said it depicts Mohammad being repeatedly kicked by the chief interpreter at the Nerkh base – Kandahari.
Kandahari is on Afghanistan's most-wanted list for prisoner abuse, torture and murder. Kabul claimed the US sheltered Kandahari; the US Army has denied the accusations.
The US Army has not denied that Kandahari was previously on their payroll, but maintains that the torture video was made after he parted with the A-Team to operate a rogue Afghan unit, and that he is not a US citizen. The US Military described Kandahari as a "freelance interpreter" who joined the American Special Forces voluntarily and lived at their base out of gratitude.
Over the past year, Kandahari and his henchmen have been seen throughout Wardak Province wearing NATO uniforms while riding on quad bikes in search of alleged insurgents.

Precious hangman
Last March, hundreds of Afghans – watched by a considerable number of armed riot police – marched to parliament in Kabul, demanding the withdrawal of US Special Forces from Wardak Province. The demonstrators were infuriated by reports of civilians being tortured and killed; Kandahari's name first went public amid these demonstrations.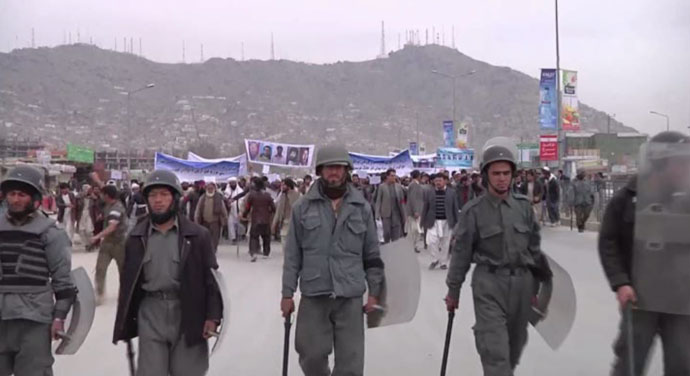 Following the protests, Afghan authorities demanded the US deliver the alleged criminal to Kabul. The US refused to turn over Kandahari to Afghan authorities.
US Military authorities claimed that Kandahari had escaped, and that they knew nothing about his whereabouts. In response, an infuriated President Hamid Karzai demanded that the US Special Operations forces leave Wardak. A compromise was later reached, and only the infamous A-Team base was removed.
An unidentified Afghan investigator told the New York Times that "there is no question" that Kandahari was directly involved in torture and murder, but asks, "Who recruited him, gave him his salary, his weapons? Who kept him under their protection?"
The official also expressed doubts that Kandahari could have left the base on his own, since "He was such a criminal that he could not stay one hour outside the base by himself."
US Military officials reported that they conducted thorough investigations into the disappearances and murders "of at least 15 people" in Wardak Province, none of which revealed evidence that American soldiers were involved in such crimes. However, the results of these investigations have not been made public.
The treatment of Afghans by US troops and their collaborators has been a perpetual stumbling block for US-Afghan relations; the 'steal and kill' case of Kandahari could well be the final straw in the 11-plus years of the Afghan War.
'Afghan govt can't be trusted, pursuing own interest in any situation'
The governments in both Washington and Kabul should be answerable to the Afghan people over the alleged torture, believes Daoud Sultanzoy, political analyst and former Afghan MP. He described the incident involving the mutilated body of a man as "gruesome."

However, "the history behind this that goes as far as back to 2002 or even late 2001," he told RT. At that time, the "then Interior Minister of the Afghan interim government was keeping a private prison run by a former special forces guy, working as a freelancer for the minister."

"There is more than one side to all these stories and they have to be investigated," believes Sultanzoy.  

Human rights organizations are staying pretty quiet on all this, which is "very suspicious."

The Afghan government though is taking advantage of the situation, pursuing their own interests, the analyst stated. Therefore, their position on the issue "cannot be trusted," he believes.

"We have to rely on independent sources. The Afghan justice system has to be so reliable that they can do an investigation independent from any political influence and the influence of the military as well," Sultanzoy pointed out.

"The US military has to show it is transparent at least in cases of human rights abuses," the expert added. They will eventually have to act and provide answers to questions regarding the allegations of torture, he concluded.

You can share this story on social media: