Chicago: 10 dead, dozens wounded over holiday weekend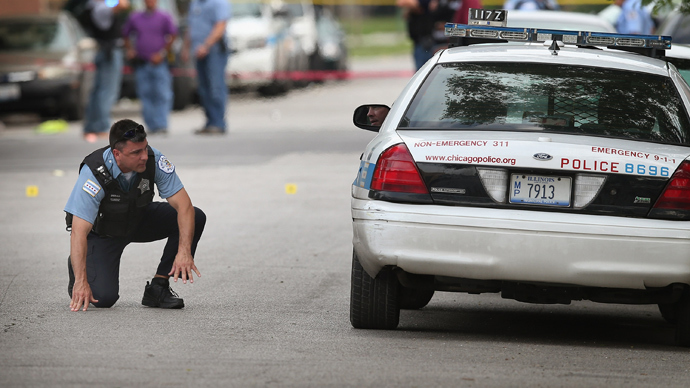 A series of deadly shootings resulted in at least 10 deaths and 60 injuries during the Fourth of July weekend in Chicago, many of which are suspected to be the result of gang violence.
The 72 victims were shot over the course of four days in what proved to be an especially violent holiday. The youngest victim was 5-year-old Jaden Donald, who was watching celebratory fireworks at a park when he was shot. The oldest victim was 72-year-old woman who was shot in the ankle, police told NBC Chicago.
Authorities have arrested and charged 24-year-old Darrell Chambers with attempted murder and aggravated battery involving three of the 72 shootings. Chambers has been accused of shooting the 5-year-old and two other men at the South Side Chicago park on July 4. During a press conference, prosecutors said the violence was the result of a gang war between two different circles of a group called the Gangster Disciples.
Mainstream media hides carnage in Chicago -- Democrats and unions -- http://t.co/hrJxRbHNLrpic.twitter.com/UTQNycV2rG

— Shawn Steel (@shawnsteel1) July 8, 2013
The bullet that struck the 5-year-old was meant for rival gang members, but accidentally struck a family celebrating the Fourth of July, shooting survivor Adonis Hewlett told CBS. He recalled how he himself was struck by a bullet that burned through his right hand, while his best friend and Donald were also struck.
"I hit the wall and fell to the floor," he said. "I just laid there. I knew I was hit one time."
The youngest victim was hospitalized and had his kidney, pancreas and spleen removed during an emergency surgery. Jasmine Donald, the mother of the 5-year-old, told ABC that deadly shootings can quickly occur in parks and playgrounds, where the victims are sometimes innocent children.
"It don't take but a second, being at the wrong place these times at a wrong time, such as a park where kids are playing, shouldn't be," she said. "The wrong place for a child to enjoy themselves. You never think for a moment that being in a park playing with your kids, you've got to worry about them being shot."
Throughout Chicago, at least 10 people lost their lives over the holiday, and 55 were wounded. Authorities suspect that most of the victims were shot as a result of gang warfare, but police also killed one 17-year-old boy on Friday after he pointed a gun at officers, AP reports.
A shooting that occurred on Saturday night was particularly violent, resulting in the death of one man and wounding six other people.
Rev. Robin Hood, program manager for the CeaseFire anti-violence group, told CBS that members of his organization have noticed an increase in gang warfare in recent weeks, especially among haphazard groups.
"The structure of gangs has been demolished," he said. "The average 14-year-old has his hands on a gun now."
Illinois Gov. Pat Quinn on Sunday referenced the shootings, arguing that the violence is a reason why state lawmakers should approve a gun bill that would end a ban on carrying concealed firearms.
"That ought to be an alarm bell to all of us that we need strong laws that protect the public safety, especially when it comes to guns," he told reporters outside a church on Chicago's West Side. "It's time to end the violence."
Chicago's murder rate is lower than that of last year, but the violent weekend serves as a set-back for America's deadliest city. Chicago police announced last week that during the first six months of 2013, there have been 184 homicides in Chicago, which is 29 percent fewer than during the same period in 2012.
But Police Superintendent Garry McCarthy has released a statement, admitting that parts of Chicago remain dangerous.
"While to date we've had significantly fewer shootings and significantly fewer murders this year, there's more work to be done and we won't rest until everyone in Chicago enjoys the same sense of safety," he said.