Chavez discusses America's hottest export: cancer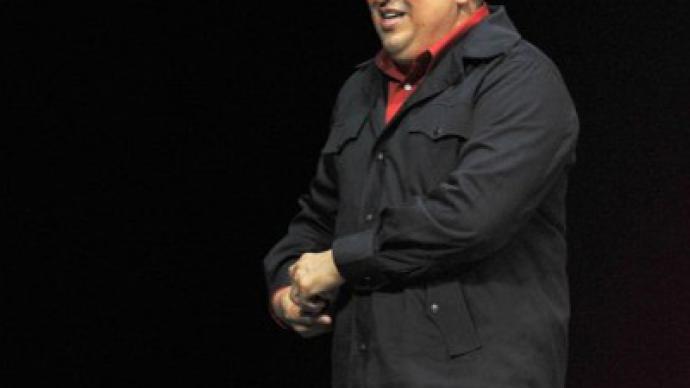 America has troops on the ready outside North Korea, has spy drones stationed to enter Iran and has God knows how many other secrets up its sleeves. What else could the US be up to? If you ask Hugo Chavez, it's cancer.
The creation and spreading of cancer over Latin American leaders.That's what Venezuelan President Hugo Chavez said on Wednesday this week while addressing troops at a military base, a speech that was televised across the country. Speaking only a day after Argentina President Cristina Fernandez de Kirchner was diagnosed with the disease, Chavez suggested — and he stressed, he only suggested — that the toll of neighboring leaders diagnose with cancer seems almost too odd to be true. Chavez recently had a tumor removed from his pelvis and Fernandez and he join a list of Latin American figurehead with the disease that also includes Paraguay's Fernando Lugo, Brazil's Dilma Rousseff and former Brazilian leader Luiz Inacio Lula da Silva."It's a bit difficult to explain this, to reason it, including using the law of probabilities," said Chavez, who called the coincidence "very, very, very strange.""It would not be strange if they had developed the technology to induce cancer and nobody knew about it until now … I don't know. I'm just reflecting," said Chavez.Speaking to the troops, the leftist leader and longtime opponent of American policy said that another Latin American leader, Fidel Castro, warned him years earlier of what the US is capable of. "Fidel always told me, 'Chavez take care. These people have developed technology. You are very careless. Take care what you eat, what they give you to eat … a little needle and they inject you with I don't know what,'" insisted Chavez.Not included on the checklist of Latin American leaders with cancer is Bolivian President Evo Morales, but Chavez warned him Wednesday that he could be next. Don't worry, though. Chavez says he's got his back."We'll have to take good care of Evo. Take care Evo!" said Venezuela's president. Also sparred — so far — is Ecuador's Rafael Correa."Evo take care of yourself, Correa, be careful, we just don't know," added Chavez.
You can share this story on social media: